In today's Wedding Vendor Highlight, Wedding Planner Jyl Deering of Chancey Charm Boston is chatting with April Churchill of Reflower Project. Reflower Project uses the healing power of repurposed wedding florals to lighten the spirits of those in the community who need it most! Learn more below. Cheers friends!
– The Chancey Charm Team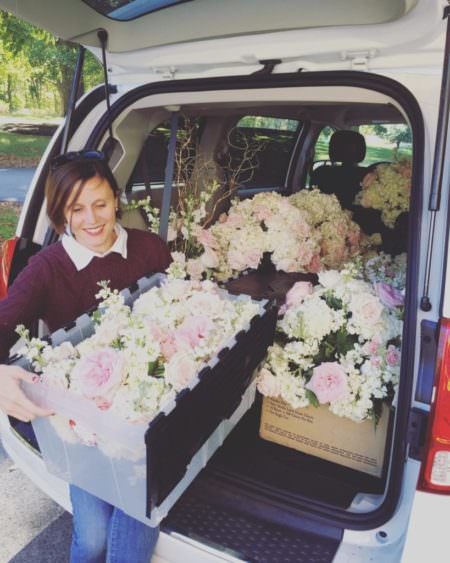 Boston Wedding Vendor Highlight | Reflower Project
Name
April Churchill of Reflower Project
Hometown
Weymouth, MA
What's your area of expertise?
Reflower Project is a repurposing wedding flower service.
First job you ever landed
The first wedding flower repurposing we did was SO exciting and fun! My assistant and I arrived at the wedding venue after the wedding had finished that night and you could still feel the excitement in the air. We were so overwhelmed by the gorgeous flowers and how helpful the wedding coordinator was with getting the flowers all ready for us to pack in our totes. The energy after the wedding is such a sweet, lovely feeling and I truly feel this energy passes into the flowers. From the meticulous work and loving care the florist puts into designing the beautiful arrangements to the love and energy the generous couple send the flowers away with. This "flower power" is passed on the the recipients at the non-profits (nursing homes, women's shelters, cancer support centers, homeless shelters, etc) who are beyond thrilled to receive the beautiful blooms. We enjoyed the experience so much that we have continued on our mission ever since.
What brought you to the wedding industry?
The sheer love of beautiful flowers and how they can continue to bring happiness to others even after a wedding is over.
A lesson you've learned the hard way in the wedding industry
 I really did not like to think of the flowers being thrown away after a wedding and this is part of the reason I wanted to start the Reflower Project.
Favorite way to spend a Sunday afternoon
Picking up flowers from a wedding the night before is certainly a fun Sunday afternoon. Other activities I enjoy are going for walks with my husband and daughters, sailing in the summertime, visiting farms, and reading when I can.
Best piece of advice to someone new to the industry
Appreciate the creativity and commitment of the all the different wedding vendors.
Best piece of planning advice to a new bride
Just breathe. Try to enjoy the planning as much as possible because it is so fun. From cake tasting to picking out the perfect dress and all the details that make the wedding unique to you.
Some words you live by
"I have found that if you love life, life will love you back."-Arthur Rubinstein
DON'T FORGET TO PIN THIS POST!
Best tip for balancing work + home life
Meditation
Best moment of your career
The delivery of the flowers is such a rewarding experience. When the people at these centers ask where the flowers came from they are delighted to here that a couple who just got married were kind enough to share the joy with them. One woman said "I feel like I'm at a fancy hotel and not at a shelter." This quote is exactly what our aim is, to allow others for a moment to forget their trouble and worries and just be in the moment of delight of the beautiful joy of flowers. We are so thankful for the outpouring of support from everyone involved in this project, from the couples who are kind enough to donate, to the florists and event planners and of course the recipients who welcome the flowers into their centers.
Guilty pleasures
Impossible burger at Wahlburgers, watching "This is Us" and of course chocolate.
Your favorite Instagram account
@kindnessgives
What's your favorite aesthetic? 
shabby chic
Intimate or Par-tay? What size wedding do you recommend and why?
It all depends on whatever you find more fun for you. I think the best part of a wedding is what is best for you. Of course delicious food, pretty flowers, great music make for a awesome wedding no matter what size it is.
What's the first thing a newly engaged couple should do? 
After enjoying a fun honeymoon of course is to plan on dedicating some time to give back to your community. Whether it is volunteering at a local YMCA, food pantry, nursing home visiting residents or packing care packs for soldiers together, any of these will bring you both so much joy that money could never.
Learn more about Reflower Project here + follow along on Facebook and Instagram. Cheers!