In today's Chancey Charm Charlottesville Wedding Vendor Highlight, we are chatting with Stephanie Jones of Steph Yoga! She first found healing in Yoga and later decided to make it her career. We're excited to be chatting all things yoga with her, learning how she changed careers to become a yoga instructor and how her yoga program can benefit brides. Enjoy friends!
– The Chancey Charm Team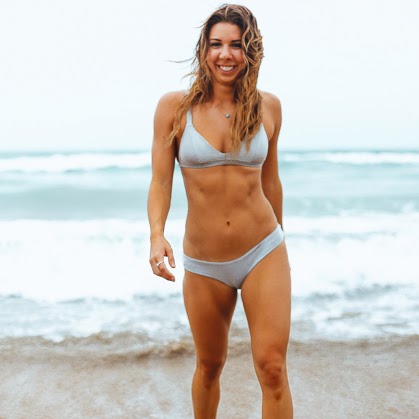 Name
Stephanie Jones
Hometown
Chantilly, Virginia
What's your area of expertise?
Women's Yoga and Fitness
First job you ever landed?
For the first three years of my post-college life, I worked as a financial analyst at Wells Fargo. It was exciting at first. I was a big girl with a big girl job. I had my own perfectly organized desk and my own computer where I got to sit and learn from all of the knowledgeable finance men I worked with. I would think to myself, "I love work."
And somehow, I started to hate work. I felt like I was experiencing the same day every single day. The newness of the job wore off and all I could hear in my head was my boss asking, "did you finish the spreadsheet?"
I began searching for more. In the midst of my search, I lost my father. My world came crashing down, so I looked for a way to rebuild myself and my life. I lost interest in finance and found healing in yoga.
How did you get into teaching yoga?
Initially, I started going to yoga to counter the stress I put on my body during long runs. Then, I started to see the benefits. I found myself sitting at my desk wishing I was in yoga. After my dad passed, yoga was the only place I felt like I wasn't waiting for the clock to strike 5, so I could leave. It was the only place I felt at peace.
Sometime after my father had passed, when I felt healed enough to make a life-altering decision, I set an intention to find my calling. Perhaps, the thing I came to this Earth to do. I like to be deep.
In the middle of a hot yoga class at Charlotte Yoga, I gazed at my own eyes in the mirror in Dancer's Pose, sweat dripping down my face and said this is it. This is what I'm meant to do. I want to make students feel the same way I feel in yoga. Present. A rush came over my body. It's a feeling I've never had before and a feeling I'll never forget.
I quit my job, moved to California and joined Yoga Teacher Training.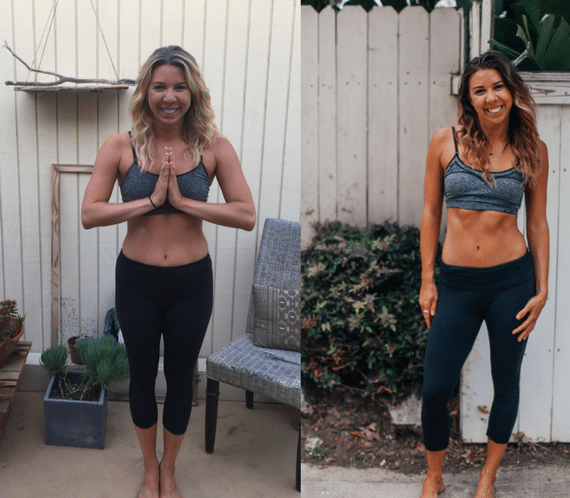 Photo: Steph Jones Transformation 
A lesson you've learned being a yoga instructor?
You have to wake up and show up every single day. You have to ask yourself, "What would I do if I knew I was #1 in my industry." Self-promotion can be hard, but you have to learn how to do it in order to get ahead. You have to know what you have inside of you is special and that you're doing the world a disservice by not sharing it.
Favorite way to spend a Sunday afternoon?
Breathwork class, an ocean plunge, iced coffee, and a sunset.
Best piece of advice you can give to someone changing careers?
You have to have determination, dedication, and strong will to stick with it. My advice for women who want to change the trajectory of their life is to do it for yourself. Don't do it to change peoples lives, but do it to change your own life. If you change peoples lives along the way, consider that a side effect. Don't depend on your success on whether or not others like your work. Choose something you'd do even if no one knew you were doing it. That's how I feel about yoga.
Best piece of planning advice for a new bride?
Enjoy the journey! What a typical yoga thing to say. Really though – it is a stressful time to try to please everyone, so take care of yourself first. Ensure you're eating healthy foods and making time for stress relieving exercise. Find the positive in each and every situation!
Some words you live by?
Happiness is at this moment. I never truly understood that until I journeyed into my own mindfulness practice. Every reminder I give myself to be FULLY present it a tiny hit of happiness.
Best tip for balancing work + home life?
Home workouts! I run an at-home workout program that helps busy women get in shape in 45 minutes 3X a week – that's less than three hours a week! It's so important to be effective and efficient with your time especially when planning a wedding! Which is why I created my program.
What is FlowLIFT by Steph Yoga? And how does it help brides?
I run an online membership website www.stephyoga.com. I help women get in shape through the class I teach at Buddhi Yoga called FlowLIFT.
The Steph Yoga FlowLIFT Body Transformation Program was born out of my own struggles getting in shape. I tried tons of workout classes before I found FlowLIFT, but nothing ever served my body. I wanted to be thin, but strong. I wanted to be worked, but not over-exerted. Then, I found FlowLIFT.
I became OBSESSED. I picked up a class teaching FlowLIFT at Buddhi Yoga and after I saw such incredible results in my own body I turned the format into a Body Transformation Program for women who are getting in shape for any special occasion have a laid out plan guaranteed to get them in shape. In 45-minutes, you'll feel stretched, toned, and tightened. The class is effective and efficient and gives you a feeling of confidence in your own body.
My most successful clients are brides! They are so dedicated and committed to fitting into their dress, that they often do my program several times before their wedding. They are so happy they have something they can turn to that gives them the success their looking for.
Guilty pleasures?
Coffee!
Favorite Instagram account?
@gypsealust
@sivanayla
Intimate pr Par-tay? What size wedding would you recommend and why?
Ah I love both! I am not engaged, but I envision myself with a Par-tay! I love when all of my family and friends are together in one place.
What's the first thing a newly engaged couple should do?
Share the news! Then enjoy a wonderful day/night together celebrating their love!
Learn more about Steph Yoga here + follow along on Facebook and Instagram. Cheers!