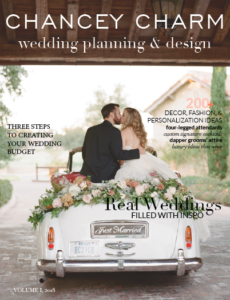 Hi Friend!
Congrats on your recent engagement!  We're honored that you're here, ready to dive into planning your wedding with us.
The next step?
It's easy, receive access to a FREE digital copy of our new Chancey Charm Wedding Magazine, full of inspiration + our favorite tips for planning your wedding when you subscribe to our updates below.
As A Bonus: You'll also receive access to Sarah Chancey's free wedding planning video series, with her personal planning advice.
*By submitting this form you agree to receive emails from Chancey Charm.  Don't worry, we won't share your information with our planning team unless you ask us to.  This is completely FREE planning advice, no strings attached!