Our Chancey Charm Charlottesville Wedding Planner, Alana Futcher, is thrilled to add this lovely and quaint wedding venue to our Richmond / Charlottesville Preferred Partners List! The Blackburn Inn is perfect for couples that appreciate historic charm with a twist of modern art! We're sharing more details about this beautiful historic event space for brides below. Enjoy!
– The Chancey Charm Team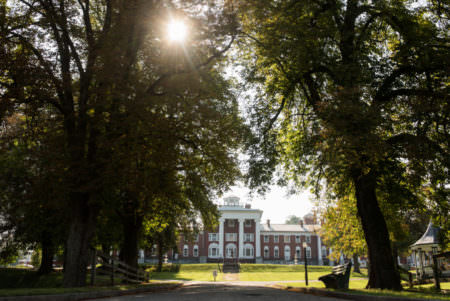 Venue Name
The Blackburn Inn
Wedding Venue Location
Staunton, Virginia (about 45 minutes from Charlottesville)
When did you open?
April 2018
Why did you decide to open your venue?
The locally-owned, 49-room luxury boutique hotel is housed in a historic, Jeffersonian-style building offering a destination that entices both leisure and business travelers alike. The developer, Robin Miller, has found his niche in the market for Historic Renovations. "We couldn't be prouder to officially open our doors and bring this historical building back to its true glory," said Robin Miller, owner of The Blackburn Inn. "We welcome locals and guests to enjoy a home away from home and join us in celebrating the Staunton community."
How many people does The Blackburn Inn hold for an event?
250 for outdoor events, 40 for indoor small receptions. The plans for Phase 2 & 3 will include a grand ballroom to hold up to 150.
The Mallorys Photo
What makes The Blackburn Inn unique?
Envisioned by master builder and Thomas Jefferson protégé, Thomas Blackburn, in 1828, The Blackburn Inn is nestled on 88 acres and honors its historic original architecture, while creating a modern, upscale experience ideal for travelers. The hotel exudes a distinctive and unmistakably American look – characterized by original heart pine floors, red brick, whitewashed wood trim, classical moldings, and dramatic, light-filled hallways, while featuring signature structures such as wide corridors, hallway arches and vaulted ceilings. Our penthouse offers a modern and industrial look for couples who want something more metropolitan. We love that we can offer these different aesthetics to our couples.
Best piece of planning advice to a new bride
If possible, hire a planner! They will know to ask every question you never imagined of asking! They will make your day go so smoothly and make sure everything is booked and ready to go!
What is The Blackburn Inn's ideal couple like?
Our ideal couple would be a pair that appreciates historic charm with a twist of modern art! With our abundance of outdoor space, we are thrilled to be able to offer our lawn for parties and weddings. Imagine a sail-cloth tent popped up with twinkle light – SO beautiful! A couple that loves the fun, artistic culture of Staunton would also be idea! With so many fresh restaurants and galleries to visit, Staunton truly is an up and coming place to be!
Learn more about The Blackburn Inn here + follow along on Instagram and Facebook. Cheers!
Pin This Post For Later!
SaveSave