Wedding Vendor Interview Questions for Wedding Planners
monthly installments via affirm available at checkout for purchases over $70
Are you headed into your first vendor interviews, with a client and feeling nervous?
That's exactly how Sarah Chaney felt with her own wedding + first few full planning clients.  That's why she's excited to share her best vendor interview tips + questions in this guide, to help you feel confident and prepared for all of your client meetings.  Plan your wedding OR serve your clients with confidence, with this easy to follow guide.
monthly installments via affirm available at checkout for purchases over $70
WHAT OTHER PLANNERS ARE SAYING
Description
WHAT'S INCLUDED:
All Of The Vendor Interview Questions You'll Need To Chat With:
Venues
Caterers
Photographers
Videographers
Entertainment
Transportation
Wedding Vendor Interview Questions for Wedding Planners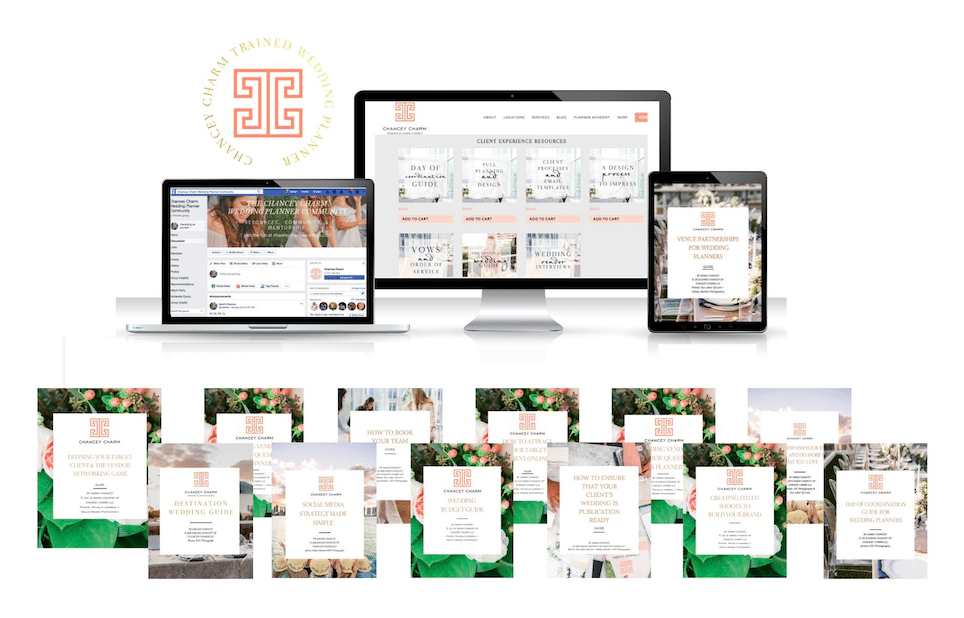 WAIT, WE DON'T WANT YOU TO MISS OUT!
JOIN THE CHANCEY CHARM ALL ACCESS WEDDING PLANNER COMMUNITY 
Everything you need in one place to launch a wedding planning  business that pays without the stress!
Chancey Charm continues to book over 400k in sales for wedding planning and design year over year in multiple markets. We've been published over 200 times, served over 650 happy couples, and have an ever growing staff of amazing planners that Sarah Chancey personally mentors. These are numbers that speak for themselves. Need social proof? Find us here.
I created the Chancey Charm Wedding Planner Academy as a place to share what I've learned during my time in the wedding industry, with brides, planners, and creative business owners.  These are the resources I wish I had at my fingertips as I started planning my own wedding and later started planning for others while building a business that allows me the opportunity to do what I love and raise a family.  Each category of resources is tailored to the audience it serves, and my hope is that what I'm sharing will make your journey a bit easier and more enjoyable!
Return Policy
Within thirty (30) calendar days of the Program Start Date, you may request a refund of the amount you paid for the Program(s) or digital downloads. The Program Start Date is defined as the first day the Company provided you access to the Program(s) or digital downloads. To be eligible for a refund, you must the requirements listed on our privacy policy + terms of service page.