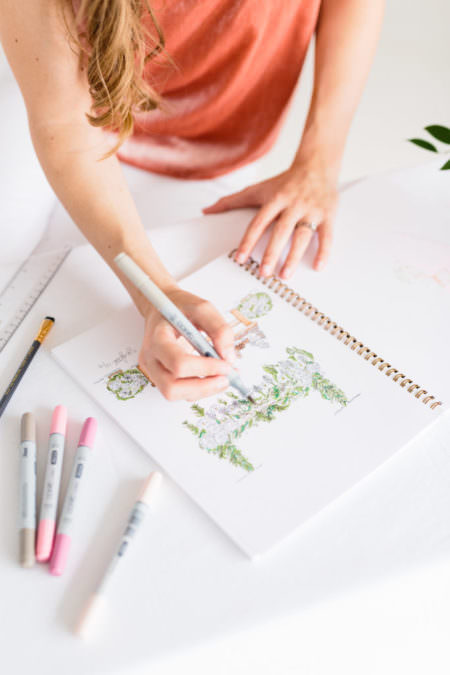 Almost every bride is anxious about the way her big day will come together. From the linens to the florals, our online design boards bring our clients' vision to life and create the customized feel our couples are looking for.  Allowing our clients to see every detail, our design boards specify everything from the bridesmaid's gown to the exit plan. Design boards are updated throughout the process and are sent to the aesthetic vendors involved with the wedding, to ensure that everything is cohesive on the wedding day.  We also offer custom sketching services for our clients upon request at the initial consultation.
Why Our Designs Are Different
Custom design is an integral element to our full-service package and offers creative direction and inspiration throughout the wedding planning experience. Our planners work closely with our clients to develop detailed online wedding design boards, which capture our client's vision and feature a collection of color palettes, layouts, pictures, fabrics and even sketches upon request. Using this collaborative, unique design process allows our team to clearly communicate the expectations of every detail to the client, as well as to each vendor and confirms that everyone involved is aesthetically aligned.
Check out the video below for an inside peek into our custom design board + sketching process.
An In-Depth Look Into Our Design Boards + Use Of Sketches
Houston Wedding Planner: Skylar Caitlin
photo via
Smith House Photography
// video via
KVC Photography