A pro at designing large-scale soirees, Liz Ise – our Chancey Charm Dallas Wedding Planner and Coordinator – has an extensive background in event planning (including event planning for the military). When she's not dreaming up beautiful weddings, you can find her + her husband exploring Texas' delicious restaurants, gorgeous landscapes, and fun festivals and events. Get to know Liz below! We're sharing her favorite part of the wedding planning process, wedding styles she loves, advice for new brides + more. Cheers!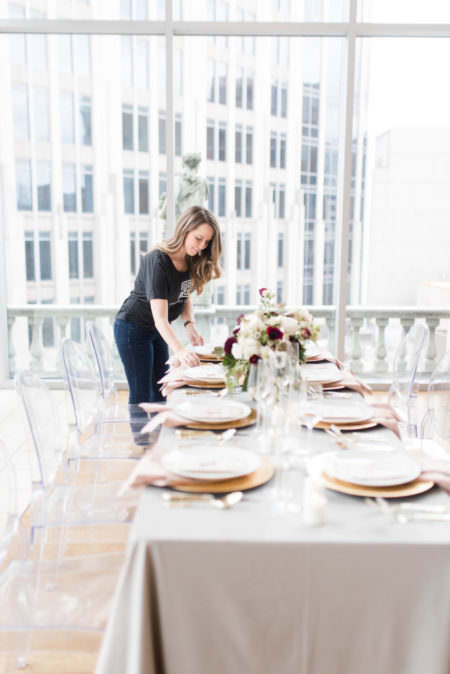 Photo: KVC Photography
Name
Liz Ise
Hometown
Eden Prairie, Minnesota
What did you do prior to joining Chancey Charm / What drew you to planning?
I was working as an event planner aboard the military instillation where my husband was stationed. We focused on planning events for the service members and their families, including large-scale concerts, festivals, Daddy and Daughter Dances, and kids' activities. I always knew I wanted to work in events because it allows me to use both logistics and creativity so harmoniously with an incredible satisfaction as a reward in the end.
What's your favorite part of the planning process?
That moment when all of the details come together, which can be so drastically different from event to event. Throughout the process, it can seem like you're just grasping at straws to make things work, but when they all come together, it's magic. I also love to see how the client puts their own spin on things. Trying new things and stepping outside the box keeps it fun.
What's your favorite style?
I've always been drawn to classic, preppy, southern styles. The traditional black tux, sprawling green lawns, bright pops of color, and a romantic atmosphere. There's just something about those classic details that makes me swoon! Now, the fun part is revamping those traditional details in a unique way. Every event I plan, I'm looking to sneak in those personal touches. Whether it be what you name your signature drink, how you incorporate your love of french fries, etc. Your wedding needs to look and feel like you!
Pin This Post For Later!
What's your advice for someone thinking about becoming a planner or joining the wedding industry?
Do it all! Getting into event planning, especially wedding planning, can be very hard, so vary your background experiences so your toolbox is full of many different skills. Work in catering, take a sales job, join a creative organization, try accounting; all of these jobs will teach you new things that will make you a better planner in the long run. If you focus on the logistics and coordination skills in your professional life, you can easily learn or practice the creative side through hobbies and classes. Also, don't be afraid to put yourself out there. You're not going to see many job postings for this kind of work, so call up a planner to chat, look for Day-Of Assistant positions, and join networking groups. The more people you know in the industry, the more opportunities you'll hear about.
Why Chancey Charm?
Because doing it on your own can be scary! The Chancey Charm team makes you feel so empowered. All of the Chancey Charm women have been in your shoes, so no question is too dumb or unanswerable. There's someone there to help you at all stages of planning and to feed off creatively. It feels like going off to college, but knowing you have a warm, loving family there anytime you need help or even a good laugh. The wedding industry can be a tough place and having such amazing women in your corner gives you such a can-do, kick-butt attitude that you're going to be right where you want to be professionally in no time.
What's your best piece of advice for a new bride?
Stay true to yourself. Brides often dream of this day since they were young, but you're a different woman now. You don't have to do the things you think you should. Don't want to do a bouquet toss? Don't. Don't want to wear white? Don't. Everyone walking into your wedding should know exactly who the bride and groom are. Include all the special details of your love story, where you make your home, your pets, your favorite foods. There is no one size fits all wedding, so embrace that. Some brides may struggle with standing up to others' opinions, but in the end it's the couple getting married who should dictate how they want their day and your wedding planner will be your number one supporter in this.
What's your favorite reception song, you know the one you secretly dance too in the back when you think no one is watching?
NO wedding is complete without some embarrassing dance moves to Twist & Shout by the Beatles. Twisting (or trying to) is impulsive as soon as this song starts. Love seeing all the generations enjoy the same song!
Do you have any pets?
Completely biased – I have the cutest dog in the world. Maverick (we're huge Top Gun fans) is a 1.5 year old 90-pound German Shepherd/Lab mix. We're trying to get him Instagram famous so we can retire early! (@AmericanMav is where you can follow the cuteness)
Do you have a hobby?
I spend most of my time DIYing things, eating Chick-fil-A, and reading murder/mystery books.
What's your favorite flower or gown designer?
I'm a classic peony and Monique Lhuillier kind of girl.
What's your favorite movie?
Without shame, my favorite movie is Top Gun. Give me the dorky one-liners, 80's jams, and those uniforms all day!
What's your favorite restaurant in your city?
We love finding new places and right now, our favorite is MASH'D in the West 7th area of Fort Worth. Amazing drink concoctions and crave-worthy food with a twist. I mean, they put corn, bacon and pineapple in their guacamole – mind blowing!
Are you a bride in the Dallas area? Contact Liz Ise today and start planning your most special day!
SaveSave
SaveSave