WATCH THE VIDEO
It's pretty hilarious that I'm writing this post.  I feel inadequate at best to share on this topic.
MY STORY
I actually parted ways with my entire Atlanta team and handed my business over to a new partner over three years ago, in a last ditch effort to regain sanity for myself and my family, when my son was a year and a half old.
Why?
Because I was losing my mind between team transition, the steady demand of clients, new social media platforms to master, my business growth plan AND my family.
Since that time, I've refocused again, and again, and again.  I've learned that it's not about arriving, but rather embracing the journey and seasons it brings.
It's about giving myself grace and realizing I have limited resources and time.
I've stepped away from planning completely, because, well – I'm an SEO + wedding crack (image curation) nerd over here! And, I'm happiest behind my laptop wit, jazz on the stereo, a cup of coffee in hand and a gallery on my screen.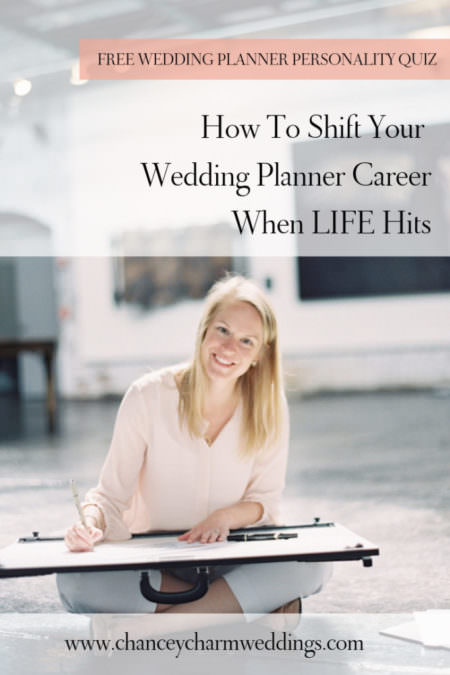 SO WHAT'S NEXT FOR YOU?
I've had over half a dozen planners come and go under my direct direction.  I've also watched planners lead teams under Chancey Charm with more grace, passion, and vision than I ever imagined. I've watched members of our team raise their families and take big steps of faith in their finances and investments.  I've seen planners start their own company and join other top tier planning teams.
I can't say I have all of the answers, but I can recommend something simple, that will undoubtedly provide clarity in this journey for you.
First, define what you really love doing in your business.
In fact, why don't you take a hot minute to jot a list of your favorite day to day or month by month tasks related to your business?
If you're already in the throes of motherhood, you know that you will be MISERABLE being away from that new lil one and doing anything you don't absolutely love!
So, I encourage you to step back, think about what truly makes your heart happy and JUST DO THAT.
Then, make a list of what you need to outsource + how much those services will cost + and charge appropriately to cover your costs + and get paid to do what you love.
Side note, I'm STILL figuring this out (#stewardship) daily, but I know, like you, that the struggle is worth it!
WORKING WITH A TEAM
Finally, if you're looking to staff a team, and life at home is a bit more challenging than normal (we've all been there), I'd recommend only interviewing and bringing on other planners or professionals who are 150% ready to work with clients independently in this season.
In fact, my guide here actually talks about how to book your wedding planner team at various levels of experience.
I love the idea of investing in new assistants, interns, and planners.  Giving back, as so many generously gave industry insight to me!  And, I have in fact trained many planners that are now so successful under our brand.  It's a true joy.
BUT, it's important to give yourself grace in various seasons.  And, it sounds like you may be headed into a season where you can step back and lead from a home office.  There is beauty and creativity in that.  And, surprisingly, innovation.  Being able to focus on the business side of things is part of what has gotten Chancey Charm quite so far!
When you hire experienced planners, onboarding is more about the brand and less about the services.
For example, I ask our planners to use Aisle Planner with their Chancey Charm clients.  This streamlines the client process for all of our clients while giving the planner they are working with the freedom to plan on their schedule with their unique skills — you can check them and other business resources I use out here.
INTERESTED IN LEARNING MORE ABOUT AISLE PLANNER?
We love their cohesive, online planning system, and think you will too!  A few of the features include:
– Lead Management Tools
– Online Contracts & E-signatures
– Invoicing & Online Payments
– Project Management & Planning Tools
Your first 30 days are free plus, use my referral link here to get 25% off any plan for your first 3 months with the code oseg!
SIMPLIFY YOUR CONTRACTS + AUTOMATE PAYMENTS WITH HONEYBOOK
I'm also a HUGE fan of Honeybook, which I personally use to automate proposals, contracts and payments! Their intuitive system has been a game changer for Chancey Charm, and given me a lot of valuable family time back. You can check Honeybook out here. (? For 50% off your first year, use my referral link )
IF YOU'RE STILL LEFT WONDERING WHAT'S NEXT FOR YOU…
Avoid the burnout and take my simple, 3 question quiz to snag the next best steps for your wedding planner personality + career!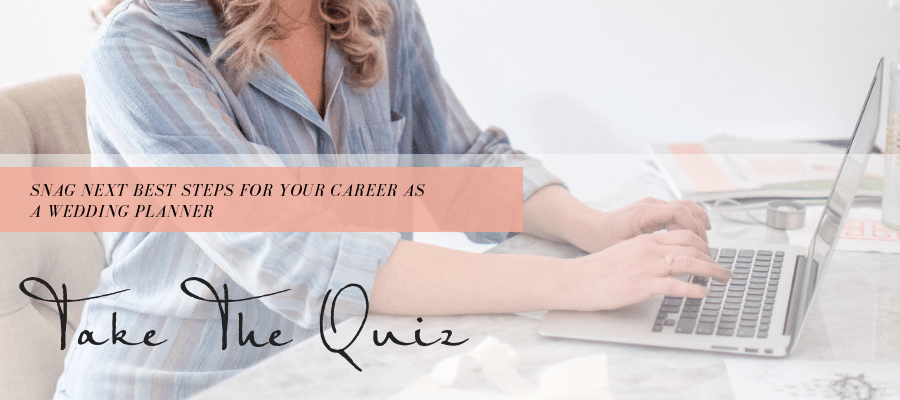 Happy Planning!
Founder + Creative Director at Chancey Charm
Disclaimer: Occasionally I do share an affiliate link in my content, via social media posts, the blog, my ecourses, digital downloads and the site. This means that if you click a link and purchase a product, I receive a little bit in return. This allows me to keep creating quality, free content. But, please know that I only share things I absolutely believe in! I also occasionally share a product I received for free in exchange for a review.  Again, the review I share is absolutely my own, and I only share products I believe in.