Our Chancey Charm Washington, DC Wedding Planner, Alana Futcher, is thrilled to share this fun venue in today's DC Wedding Venue Highlight. Prequel DC is a restaurant incubator and wedding venue (private event space) that boasts a basement speakeasy cocktail bar and a wine bar lounge. We're sharing more details about this funky + eclectic wedding venue for brides below. Cheers!
– The Chancey Charm Team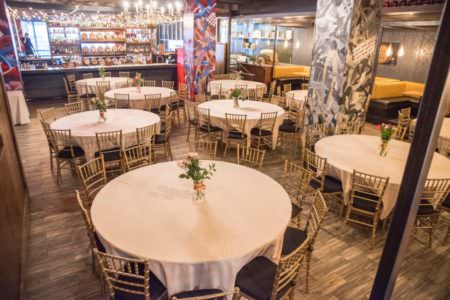 Venue Name
Prequel DC
Wedding Venue Location
Northwest Washington, DC
When did you open?
We started Prequel DC back in 2015, and have been in our currently location since 2017.
Why did you decide to open your venue?
We were the first equity-crowdfunded restaurant in the country, with over 300 DC residents investing to make Prequel DC a reality.
How many people does your venue hold for an event?
The Drawing Room: 80 Seated / 120 Standing, The Lounge: 120 Seated (including 48 in booths) / 160 Standing, The Whiskey Room: 24 Seated / 35 Standing, The Patio: 85 Seated / 120 Standing, The Roof: 200 Seated / 300 Standing
What makes your wedding venue unique?
Wedding, wedding afterparty, cocktail reception, happy hour, client dinner – whatever your private event needs, our spacious, funky venue makes the perfect setting for a memorable experience.
Learn more about Prequel DC here + follow along on Instagram and Facebook.
Pin This Post For Later!