Hi Friend,
I know, I know – if you're  a small business owner it's a HOT topic right now.  What is GDPR and how do you get in line?!
First, let's start with the basics.  GDPR stands for:  General Data Protection Regulation  It's a healthy movement toward the protection of every person who's surfing the net.  That includes me and you – so get excited.
if you're a small business owner, and freaking out over the new GDPR regulations – take a deep breath and make it a goal to compelte these first three  steps to becoming compliant below.  I promise, it'll make your business healthier and more organized – perks!
Here are the first steps toward becoming GDPR compliant AND my favorite podcast + WordPress plugin for becoming compliant below.
If You Have Forms On Your Site (for inquiries, a newsletter – whatever!)  – There needs to be a consent clause at the bottom of each form on your site ( where you explain why you're collecting the data and how you will use it.), that new subscribers agree to.
The Double Opt-In Policy: Provide a double opt-in for all email subscriptions to make sure you have informed consent to email a new subscriber.
When Sending Emails: Make sure you provide an unsubscribe option and a 'forget me' option on each email.  'Forget me' means that you'll also be responsible for completely deleting their information from your system.
Click Here to Listen To My Favorite Podcast On Becoming GDPR Compliant
My gal Annette lays it OUT in this podcast – it really got my head in the game, giving me step by step instructions to GDPR compliance, as well as, helping me understand what GDPR is + why it's important for every business owner.
Click Here To Check Out A Fabulous GDPR WordPress Plugin
This plugin, helps you become GDPR compliant with post comments, submissions AND gives users a portal where they can edit or delete their own information.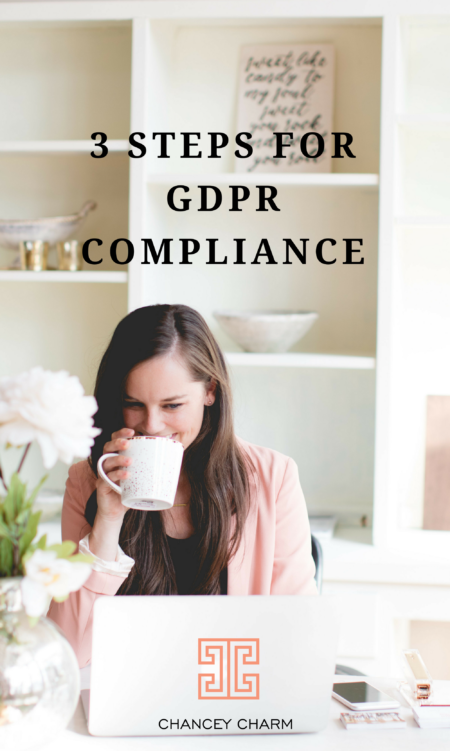 I hope that this gives everyone a great jumpstart on becoming GDPR compliant in 2018!
Cheers!