If you're looking for epic pre-wedding celebration inspiration for you + your closest gal pals, you've come to the right place, friend! And if you fancy intimate conversations, romantic lighting, delicious food, and an atmosphere where shoes are optional, this Boho Sunset Shower Soiree at The Darlington House will set your heart a flutter. Featured on Green Wedding Shoes, Lauren Weidley for Chancey Charm San Diego and an amazing vendor team pulled out all the stops for this inspiration shoot!
For this stunner, Lauren and the team envisioned an intimate shower inspired by a laid-back bride who still loves a touch of glam. Her favorite time of year is when spring turns to summer – with warm days followed by cool nights and breathtaking sunsets. She cherishes the rich bond of dear friends and believes the best conversations happen around the dining table. To create this cozy ambiance, the team dreamt up a a floor-seating tablescape complete with textured throw pillows and cushions. Gracing the top of the table was an almost-to-pretty-to-eat spread of charcuterie, summery appetizers and a bottle of wine or two. Bubbly would also be served, along with the prettiest single tier gold-flecked cake and macaroons to match. Lush florals literally blossoming out of the walls and romantic candlelight would set the mood for a rich summer soiree lasting well into the evening.
See some of our favorite details below and head over to Green Wedding Shoes for the full feature!
Boho Sunset Shower Soiree at The Darlington House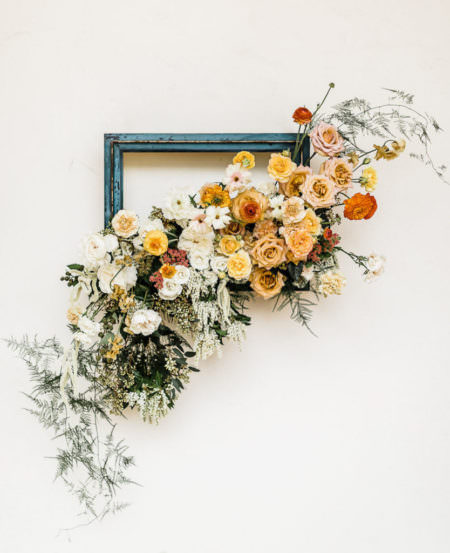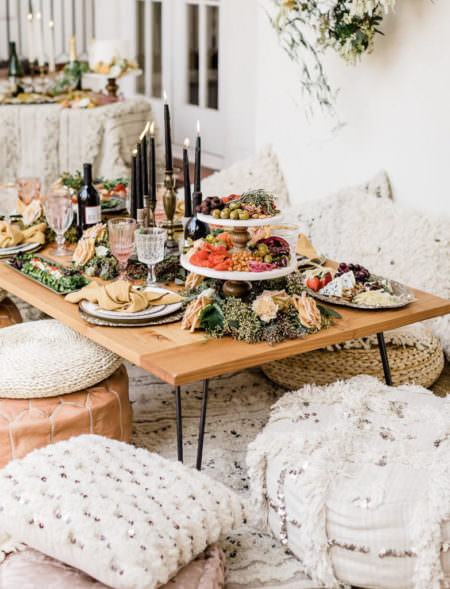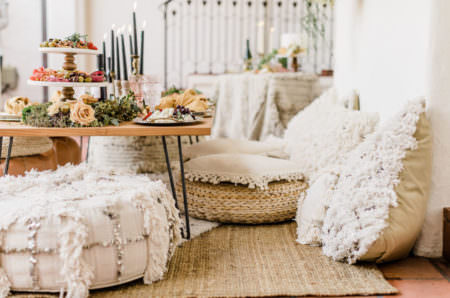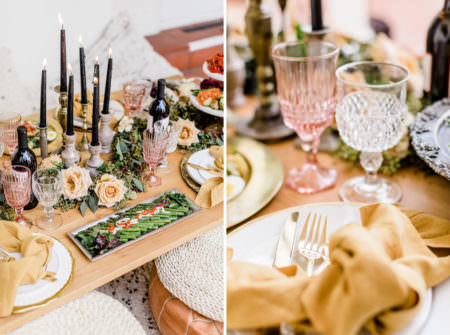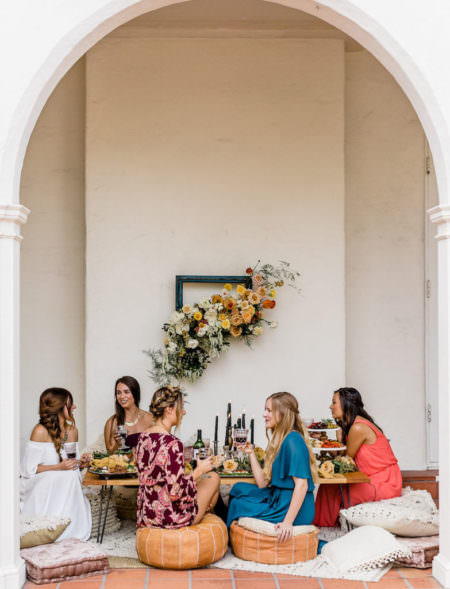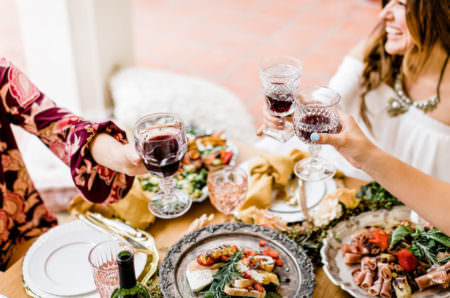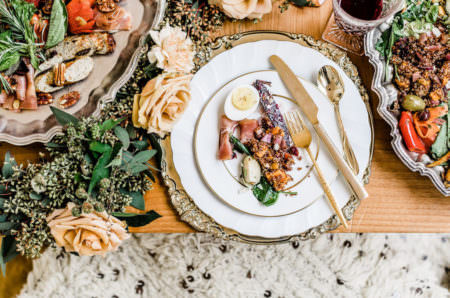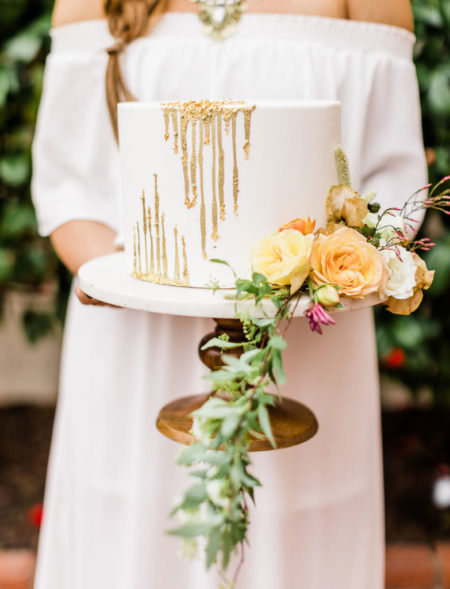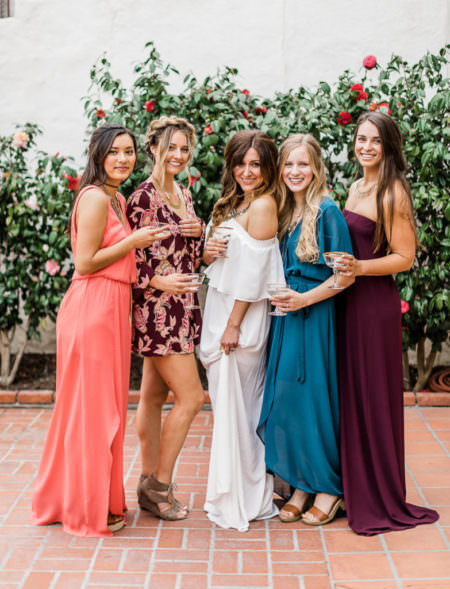 SaveSave
Boho Sunset Shower Soiree Vendors: Lindsey Marie Photography, The Darlington House, Lauren Weidley of Chancey Charm San Diego, Blue Ladder Botany, Show Me Your Mumu, Savannah Turrietta, Lindsey Jones, The Wild Thyme Company, Sweet Cheeks Baking Co., Adore Folklore, Hannah Fitzherbert, Michelle Conover, Alex Amarantos and Lourdes Bass and Lauren LeBouef.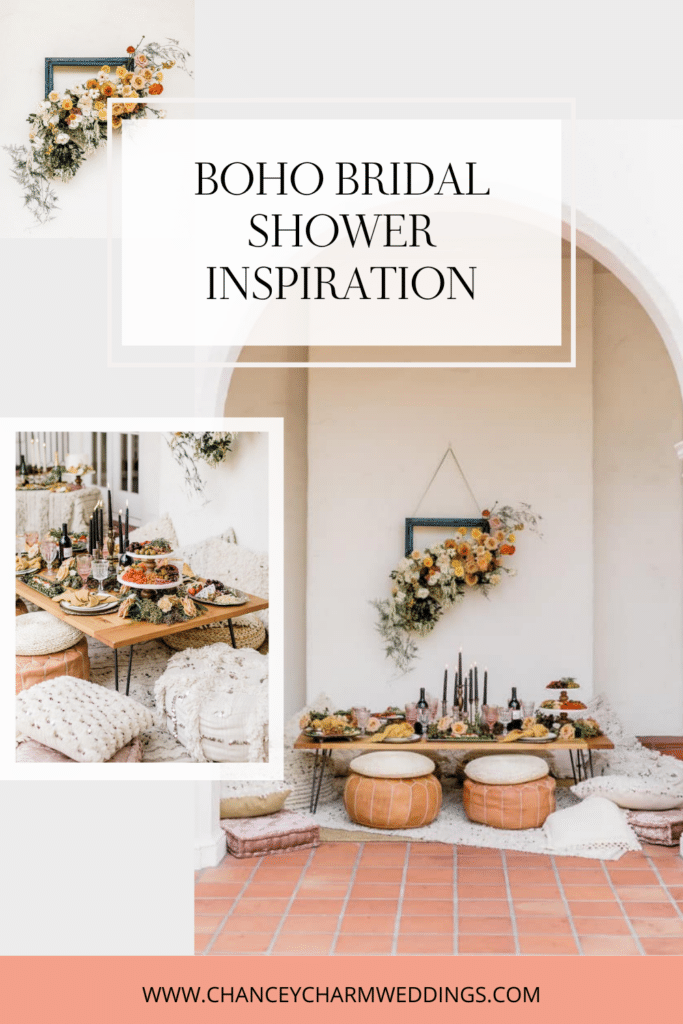 Free Destination Wedding Cost Comparison Guide