Welcome, we're hoping you're here because you're considering a stunning destination wedding with all your dearest family and friends.  Maybe you're considering Europe?  Right now Europe is HOT when it comes to destination weddings. But, how much is a stunning European destination wedding going to cost you? The answer might surprise you.  
Pricing for a European destination wedding varies greatly by location, so our destination wedding team, led by Mart-Mari has broken it down in a price comparison between Italy and Greece.  We're hoping that this provides some clarity in the process, to get your dreams headed in the right direction.  All pricing below is based on a guest count of 50. Please note, these are just estimates and not guaranteed pricing.
We have a dedicated team of fabulous European planners located IN Europe, so you're not flying a planner over, who's completely new to the area.  This provides the highest level of service, along with the very best price.  If you're ready to dive in, just inquire here, and we'll get you connected.
Snag our free destination wedding cost comparison guide here. (Bonus: Looking for an elopement style destination wedding for just the two of you or a small group? You'll also get connected to our partners for those services inside the guide.)
Cheers,
The Chancey Charm Destination Wedding Team
Venue 30 mins outside Athens on the Athenian Riviera

Hotels and accommodation nearby for guests
ESTIMATED COST BREAKDOWN:
For a Saturday Wedding EUR 10,000
For a weekday wedding venue rental fee included in the menu fee*
EUR 220 pp x 50 = EUR 11,000
Standard equipment included in menu rate (basic tables, chairs, glassware, flatware)
EUR 1000
EUR 40 pp x 50 = EUR 2000
DJ, Basic Sound system, AV, Dancefloor: 
EUR 1000
Photographer (International Photographer)
EUR 6,500 
EUR 6,000
TOTAL: EUR 26,700 (Weekday wedding)
TOTAL : EUR 36,700 (Weekend Wedding) 
Beautiful venue on a Cycladic Island

Nearby accommodation options available
ESTIMATED COST BREAKDOWN:
EUR 6,500
EUR 90 pp x 50 = EUR 4,500
EUR 70 pp x 50 = EUR 3,500
EUR 3500
From EUR 6,000
Photographer (International)
EUR 6,500
TOTAL : EUR 30,500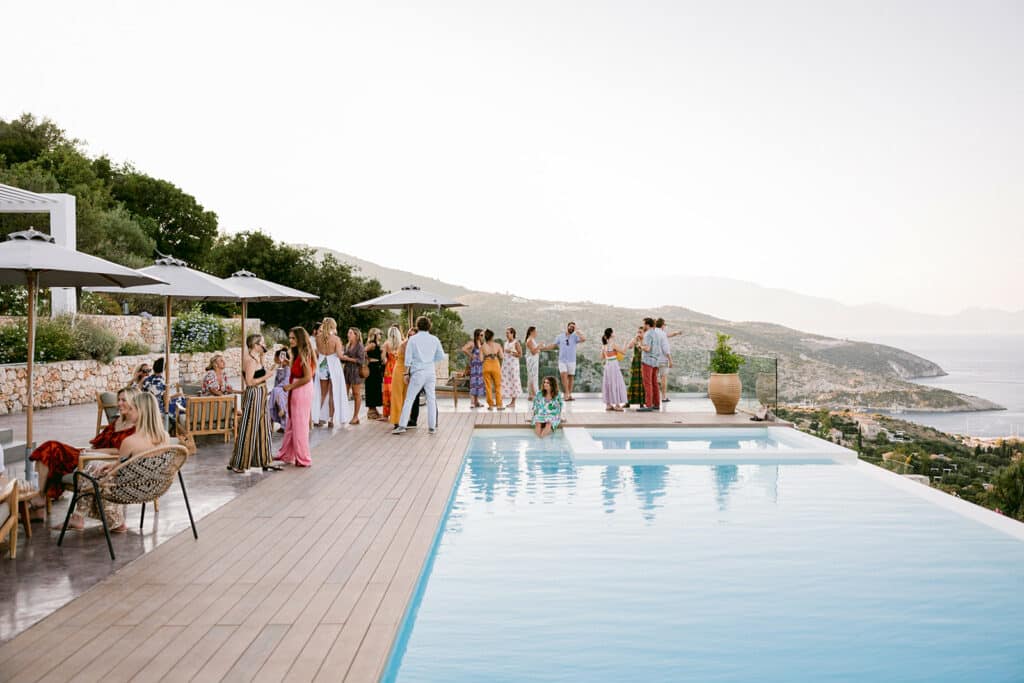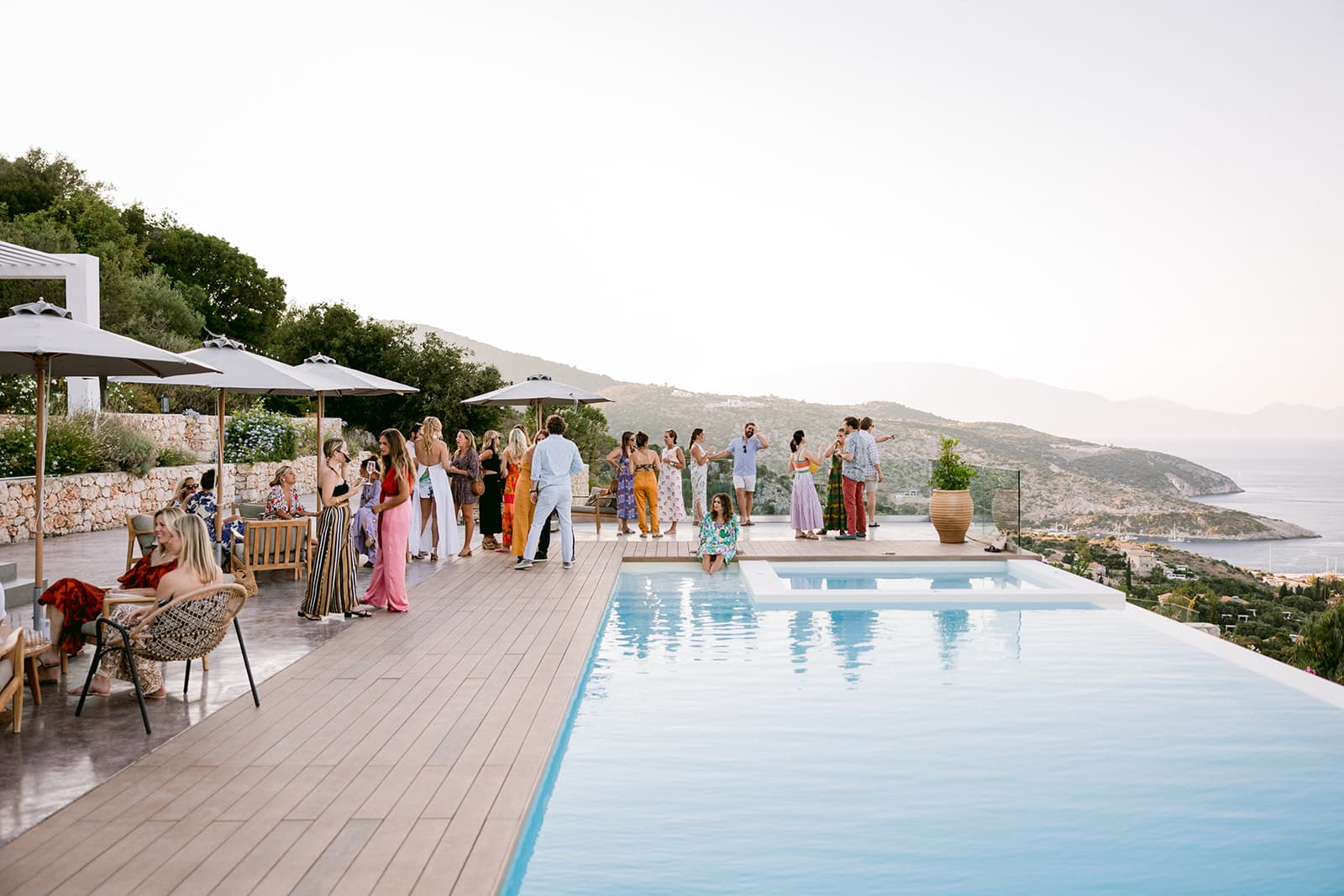 Includes a 2 day full buyout including 19 rooms
ESTIMATED COST BREAKDOWN:

EUR 97,000 
includes 2 night accommodation in 19 rooms
( 4 course dinner and cake )
EUR 300 pp x 50 = EUR 15,000
Cake (if not included in catering cost)
EUR 3,500 – two tier 
EUR 6,000 
EUR3,500
EUR 12,000
EUR 2,000
EUR 6,500
Starting from EUR 8,500
TOTAL : EUR 170,100
A Tuscan Italian Villa Wedding
Includes 3 nights accommodation for 36 guests
ESTIMATED COST BREAKDOWN:
EUR 45,000
( includes furniture rental, glassware, flatware, wine )
From EUR 190 pp x 50 = EUR 9,500
EUR 5,250
EUR 3,500
From EUR 6,500
EUR 6,500
TOTAL: EUR 76,250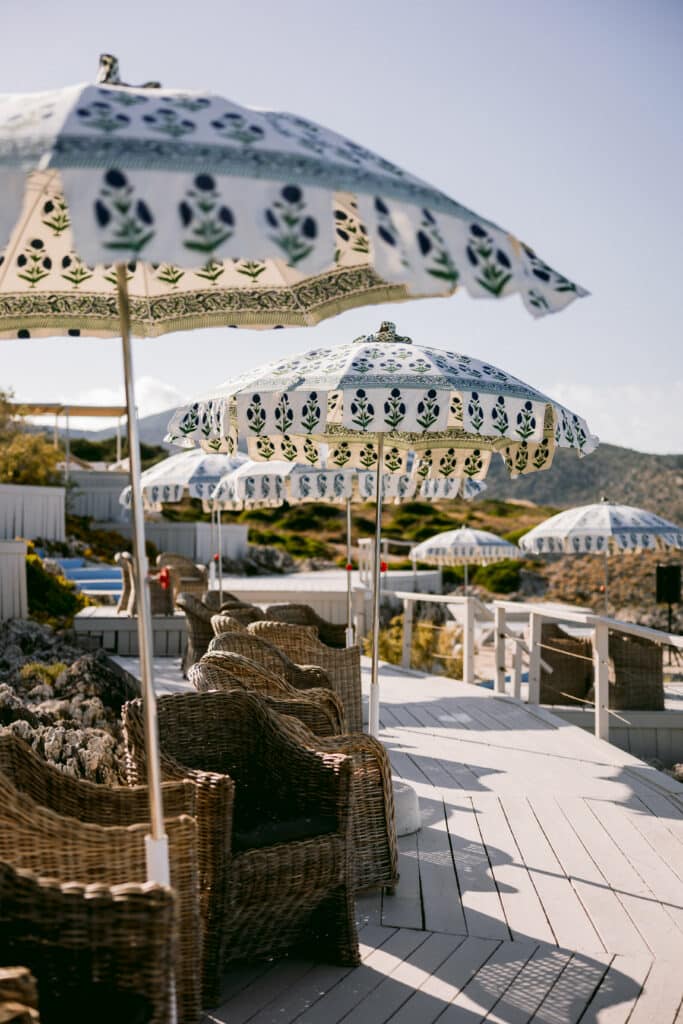 PIN THIS TO YOUR WEDDING PLANNING BOARD!