When it comes to weddings, the center of attention is of course on the couple, but coming in at a very close second… THE FOOD! Your friends and family love you and are happy to celebrate you, but it is safe to assume that the mouthwatering appetizers, desserts, and late night snacks have a strong influence on that RSVP. It's time we narrow down the sweet, savory and surprise small bites that are going to leave your guests with full stomachs and big smiles. They may even hope you get married again! (Just kidding!). Check out some of my favorite ideas to evaluate your wedding day menu below!
-Lauren Stearns, Chancey Charm Washington, DC + Virginia Team
RAISING THE BAR | 4 IDEAS TO ELEVATE YOUR WEDDING DAY MENU
1. The Southern, Stacked and Savory: 
It's no secret that bite-sized food is a go-to for caterers when planning your wedding day menu; however, presentation and unique flavors will leave your guests raving long after the dance floor shuts down. For a touch of southern charm, mini chicken and waffles are a must! We have seen them stacked as mini waffles or as small chicken pieces in a waffle cone (win-win situations if you ask me). And if your guests simply can't get enough maple syrup, surprise them with mini late night pancake stacks , passed around as guests take a breather from their wicked moves on the dance floor.
I may be a little biased, but there's nothing better than a mojito or margarita after an outdoor ceremony. We all know mini foods are so much better than normal foods, so add some mini tacos with guac to your wedding day menu  and bam! I'm ready to find that dance floor. Guests will love to feel like a kid again with excitement over late-night bites such as mini corn dogs or sliders . Speaking of making an impression, guests may have seen cake pops at a wedding before, but how about late night fried mac n cheese pops! ? That's right… cheesy, fried, delicious pasta on a stick. It may not fit every wedding catering package, but is sure to a be a winner when it is on the menu.
Fast forward to the cake cutting and you bet guests will be at a dessert table when there's mini donut skewers, cookies and milk, or even chocolate covered churros available! If you're nervous there's too much food on your wedding day menu – fear not. Guests will not be upset visiting a popcorn or soft pretzel bar on their way out. Brides can customize these bars to fit their personality or location with their choice of dipping sauces. For my Maryland brides, adding crab dip for pretzels or old bay seasoning to popcorn can be a memorable treat for out of town guests.
Guests may be breaking it down on the dance floor, but having space for guests to mingle is also important for conversation, fresh air and you guessed it… good food! If your venue has a fire pit, treat guests to a s'mores spread with extra fun fixings like peanut butter cups, Oreos, fruit or caramel. For those (me) that consider cheese one of the main food groups, a late night grilled cheese bar with unique breads and fillings can be an instant crowd pleaser! Jalapeños, pears, tomatoes, bacon, fig, onion, and meats are just a few of the fillings sure to have guests craving seconds… or thirds. Another great cheese loving option is a pizza bar where mini pizzas are on display for guests to grab a late night snack before heading home for the evening. The slice is great for last minute dance floor fuel as well as preventive measures to soak up those evening drinks.
SaveSave
So there you have it! A round up of tried and true wedding day menu favorites when it comes to appetizers, dessert, and late night snacks. In case you haven't caught on, my favorite conversation topic is food so let me know your favorites from your wedding experiences!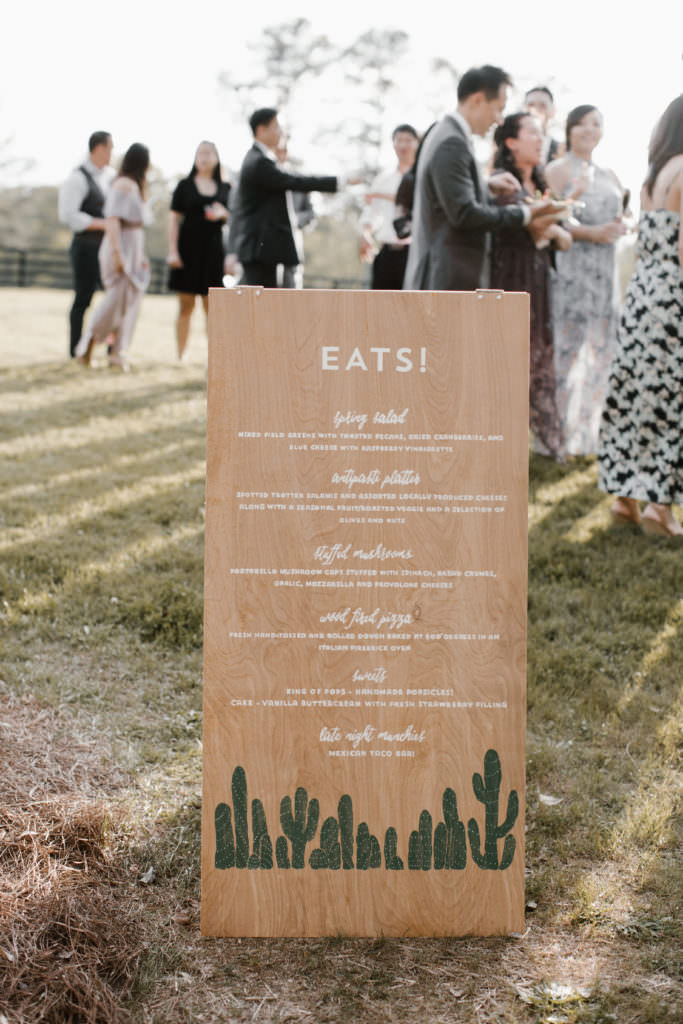 Free Destination Wedding Cost Comparison Guide