If sweeping mountain views and perfect golden hour wedding pictures are what you have always dreamed of for your wedding day, then one of these venues will make your heart swoon. All are in or have views of the Blue Ridge Mountains, and each of them features the countryside as part of the venue. 
Our top picks for a countryside wedding in Charleston in no particular order:
An elegant boutique hotel located in the rolling Virginia hills, The Blackburn Inn, is a wonderful location to say "I do." Featuring expansive outdoor and indoor wedding spaces, this all-inclusive venue can meet the needs of any celebration, including all of the before and after events. The historic architecture features a red brick facade and white trim with stately columns that impart a sense of grandeur that guests will notice as they arrive, and insist upon photos in front of. Once inside, the restored details of arches, hardwood pine floors, and the signature spiral staircase complement the inn's clean modern aesthetic. There is a choice of the gazebo, large fountains, and willow trees on the lawn as a setting for ceremonies. The inn is charming and gives couples many options to create their dream day. 
Early Mountain is a winery with modern facilities and luxurious amenities where dream weddings come to life. Sitting on 350 acres tucked away in the rolling hills of the Blue Ridge Mountains, the winery has a natural beauty with incredible views that are perfect for golden hour photos. With versatile and customizable spaces that can accommodate weddings any season of the year, couples can make the most of all this venue has to offer. Outdoor ceremonies can take place on the great lawn with mountain scenery in the background or outside the historic barns with vineyards, native grasses, and hydrangeas to enhance the setting. The event hall is a refined and rustic space with an impressive stone fireplace and vaulted wood-beamed ceilings for a warm welcoming reception. With the same cozy style, there are two additional spaces that can be used for rehearsal dinner and cocktail hour.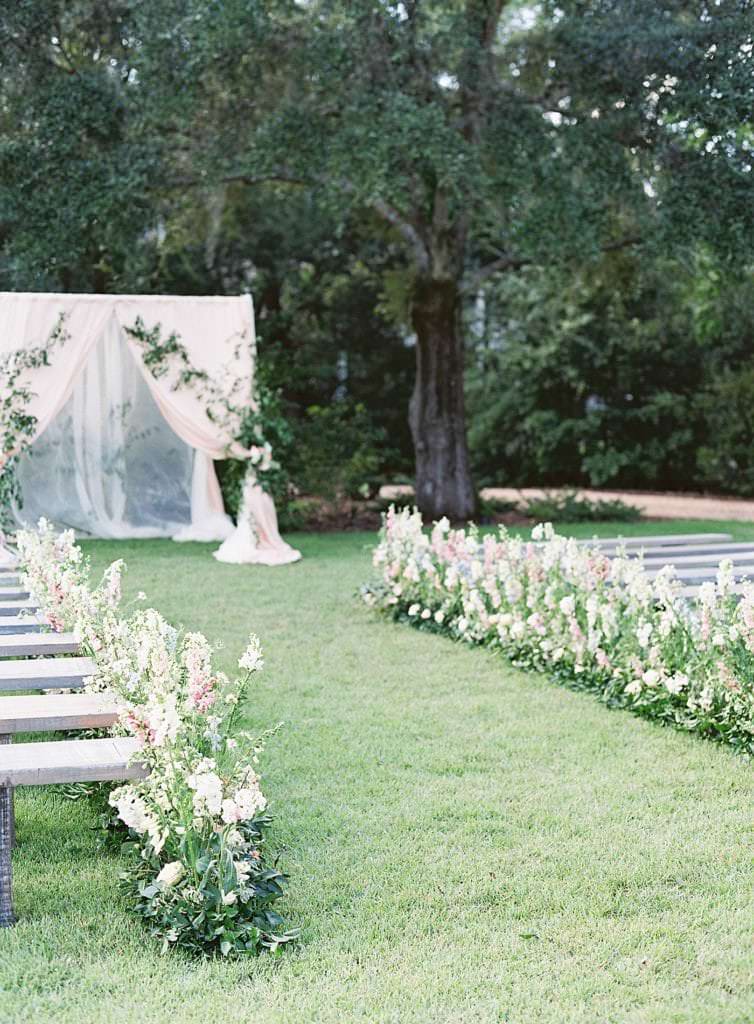 Big Spring Farm is a barn wedding venue with modern styling that has plenty to offer. Alongside a 10-acre spring lake sits the restored post and beam barn. Inside the barn, the large open space is fully customizable allowing the natural wood to complement any decor style. The large patio area with a fire pit is a perfect area for guests to mingle and enjoy the outdoor space day or night. The serene setting has the choice of a lakeside ceremony overlooking the spring or a hilltop ceremony with views of the mountains and valleys. Big Spring Farm is an ideal location for a scenic romantic wedding with country flair. 
4. HAZY MOUNTAIN VINEYARD AND BREWERY
The winding road that winds up the mountainside to Hazy Mountain Vineyard seemingly whisks you away to the Italian countryside. Arriving at the winery with its stone-accented buildings and taking in the panoramic views, there is no mistaking the Tuscan influence. There are four spaces to host all the wedding activities and give couples options when planning. The courtyard allows guests to soak in the views and is fantastic for ceremonies. A large open hall featuring wood-beamed ceilings, stone walls, and wood floors, is the favorite to hold an indoor reception. There is also a tasting room and upper mezzanine that are available to host cocktail hour or rehearsal dinners. Hazy Mountain feels like a getaway to another place with its peaceful setting and Italian style.
Iconic estate, The Clifton, is a venue with historic appeal and sophistication. The 100-acre property has lush grounds that overlook the forests of the Blue Ridge Mountains. The main building, The Manor House was built in 1799 and is exclusively yours for the day or for a full weekend wedding event. With a variety of spaces, the venue allows for hosting rehearsal dinners, cocktail hour, ceremonies, and receptions on the property. The inn can also provide overnight accommodations for family and friends with a continental breakfast included. The indoor spaces all have historic features and simple stately decor. Outdoors there are options for large groups and small intimate gatherings; all showcase the lush foliage and remarkable grounds. The Clifton is an elegant and stylish venue for an idyllic country wedding. 
Choosing from the wonderful selection of venues that Charleston has to offer can be a tough job! There are a lot of decisions to be made when planning a wedding and sometimes it can feel overwhelming. Our clients say they'd never be able to live without the tools we provide for them throughout the entire process. From a fancy online planning system to a jaw-dropping design presentation, we do it all with the goal of making it enjoyable for you. Contact us by clicking below if you are ready to start working with a professional planner today!
Free Destination Wedding Cost Comparison Guide