Chancey Charm is happy to highlight our preferred partner The Biltmore Ballrooms. This historic location is stunning inside and out, with the architecture a standout feature. The impeccable renovations that highlight the features add a romantic look to its historic facade. We love the hardwood floors and beautiful high ceilings, they create such an elegant setting!
Location
Atlanta, GA
When did you open? OR What Is the history of your venue?
Originally built in 1924 as Atlanta's premier hotel, the 11-story Biltmore Hotel emerged via a partnership between Atlanta's William Candler and New York hotel mogul John McEntee Bowman. Candler financed the $6 million development with his share of the $25 million buyout of his father's Coca-Cola empire. The Biltmore Hotel became the focal point of social life in Atlanta, hosting a wide variety of events from galas, wedding receptions, and high-society teas to civic meetings and local political fund-raisers. 
In its heyday, the Biltmore Hotel's clientele included such luminaries as William Randolph Hearst, Charles Lindbergh, Betty Davis, Bob Hope, Vivien Leigh, and Presidents Roosevelt and Eisenhower. The Biltmore has also been the backdrop for several feature films.
Through the renovation, which was completed in 1999, The Biltmore was transformed into Class A office, retail, and special event space. Today, The Biltmore is home to over thirty Atlanta businesses and provides an elegant backdrop for the social and business life of Atlanta. 
What is the best feature of your venue for couples on the venue hunt?
The architecture is gorgeous. Plus, hardwood floors, chandeliers and additional lighting. All these touches that create a uniquely elegant experience.
Also, the flexibility that The Biltmore Ballrooms give couples planning their wedding. The ballrooms are connected by a suite of lobby and pre-function space that can be used in any combination. Giving every couple so many options.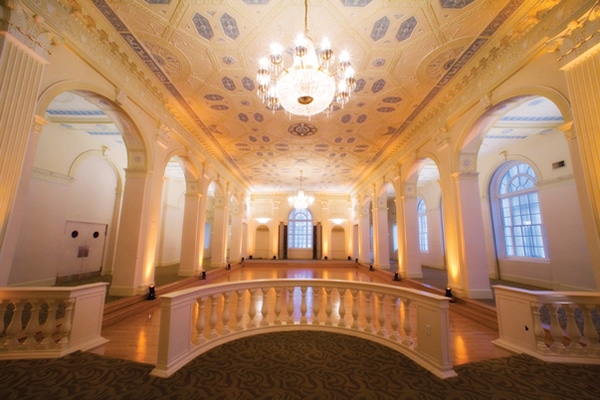 How many people does your venue hold for an event?
With our flexible space it ranges from 50 to 1500!
What perks does your space come with? (tables, chairs, stunning views, etc.)
Full bar service that includes barware, glassware and staffing.  
Best piece of planning advice to a couple who just got engaged.
Make sure to set aside time in the schedule to connect with each other. The day can busy and stressful so taking a moment can remind you that it's all secondary to why you are celebrating. 
Thank you for reading, we hope this blesses your wedding planning journey.
Cheers!
The Chancey Charm Team
SNAG OUR FREE WEDDING CHECKLIST
DON'T FORGET TO PIN THIS FOR LATER!