Your parents (both your own and your soon-to-be in-laws) are most likely helping your dream wedding day come to life – whether offering financial help, or just infinite time and support. We suggest that you and your husband put your heads together and come up with a way to thank both sets of parents for playing a part of your big day. From a thoughtful hand-written letter, to a fancy bottle of champagne, the Chancey Charm Wedding Planning Team is sharing their favorite gift ideas for your soon-to-be in-laws below. Cheers!
-The Chancey Charm Team 
Wishing you could chat with a professional planner about your budget, design, timeline or snag some thoughtful advice? We've got a service for just THAT! CLICK HERE TO CHECK IT OUT

Photography: Lindsey Marie Photography
Never underestimate the power of a hand-written letter straight from your heart. You know how moms keep every birthday card and finger painting their kids have done over the years, so imagine how they would cherish a heartfelt letter from their soon-to-be daughter or son-in-law? Tell them how much you admire their love as an example in your new marriage or how you appreciate the way they raised their son or daughter to be your perfect match. To take it to the next level, contact a calligrapher or watercolor artist to have your words turned into a piece of art they can proudly hang on their wall and think of you. -Liz Ise,

Chancey Charm Dallas Wedding Planner

For the bride's soon-to-be mother-in-law, sometimes the best gift is simply including her in the festivities. Include her as much as you can – maybe ask her to come to the dress fittings and go with her to shop for her dress so she feels included. It is also a nice gesture to include some of her sentimental jewelry in you + your husband's wedding day wardrobes, whether it was grandma's old broach or grandpa's watch. The thought makes any parent happy to have these items included in the special day, especially if the owners of them are no longer living. -Lindsay Rowell,

Chancey Charm Charlotte Wedding Planner

I think the best gift I saw to in-laws was a picture of the groom's parents on their wedding day, and then also a framed picture of the couple. Or simply a framed picture of their son (the groom). Also, I have seen a couple give their future in-laws a bottle of champagne that was served at the wedding as a gift (like a REALLY nice bottle of champagne). Always write them a note, words are more important and precious then a gift. Explain how excited you are to join their family and how much you love their son! -Jyl Deering,

Chancey Charm Boston Wedding Planner

I think that one of the cutest gifts you can get for in-laws is a handkerchief embroidered with the wedding date and a sweet little message. For example to the mother, you can embroider something like, "thanks for raising the man of my dreams". I've also seen it embroidered with "no ugly crying!" Also, I don't know if this can be counted as a gift, but a few of my brides have reserved a few seats for grandparents that have passed. And I think the in-laws kind of accept that as a gift to them, honoring their deceased parents. -Ashley Silver,

Chancey Charm Nashville Wedding Planner

Here's a twist on a framed picture; commission a custom family illustration for your future in-laws. The artist can create a treasured art piece that they'll love to hang in their home.

 If you want to keep it centered on your wedding, send in a picture of your dress and let the artist know what color suit your groom will be wearing along with your wedding palette. The illustrator can combine these completely custom details in a final piece that will capture the joy and excitement of your blending families. -Skylar Caitlin, Chancey Charm Houston Wedding Planner
DON'T FORGET TO SAVE THIS POST FOR LATER!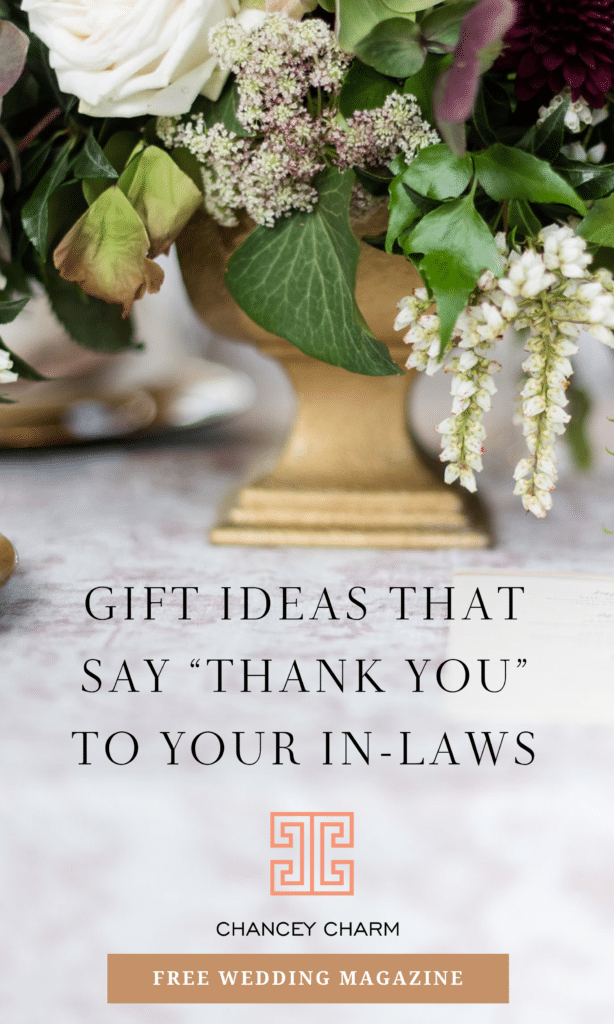 SaveSave