Chancey Charm is excited to introduce you to one of our MVP wedding planners! Skylar Caitlin is a veteran wedding planner that works out of Houston. We enjoyed taking a moment to get to know a little more about her path to becoming a wedding planner and to hear some of her planning advice for couples. We are so happy to share all of it with you.
Name
Skylar Caitlin
Company Name
Skylar Caitlin Events
Location(s) You Serve
Continental U.S. destinations; based in Houston, TX
What led you to become a wedding planner?
I was sitting in my senior year English class post-exams scrolling through the new hot website, Pinterest, with a friend when she confided, "I think I want to be a wedding planner." It was like a lightbulb went off.
That was it. That was the moment I decided to become a wedding planner. A high school senior who had been to a wedding once – as a six-year-old flower girl – with very little hospitality experience – unless you count many years of dinner theater – sitting in English class looking at pictures of pretty wedding dresses on the internet.
But I guess I listened when my parents said "You can be anything you set your mind to" because a few months later I was sitting in my first Hospitality Management class at Auburn University.
Through college I worked as a church coordinator, floral assistant, and a variety of odd jobs and shadow positions in the industry gobbling up knowledge and experience. One of those positions lead to an internship with Chancey Charm Weddings where I was eventually given my first role as a lead planner. 
10 years and over 100 weddings later, that little high school senior is proud to be serving couples across the US.
How long have you been planning?
9 years
Education or certifications?
Degree in Hospitality Management from Auburn University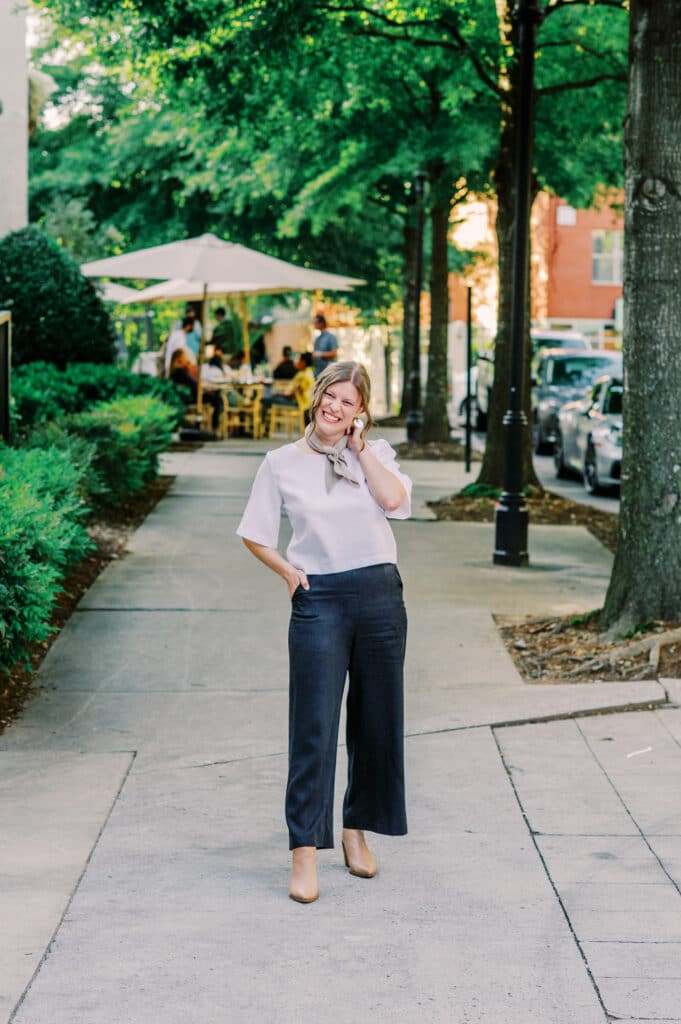 What is your favorite part of planning a wedding?
I love getting to know my couples. Not only because they're all fascinating and fun people, but because the best way to avoid being "basic" is to design your wedding around who you are as a couple. It creates a more timeless event and leaves your guests walking away saying "that was so them!" which is something they'll remember for years to come.
Favorite Color Palette and Why!
I could never choose just one favorite palette! My personal closet is neutrals with touches of rust, olive, and dusty rose, but when it comes to weddings I'm all about palettes that continue to tell the story of the day. That might mean choosing a palette that highlights the natural landscape of a ranch or that's inspired by a bride's sapphire engagement ring (I've done both!). It's the most fun when the palette means something beyond "we saw a palette we liked on Pinterest and want to use that."
Favorite Tip for The Day Of Timeline
Share your priorities for the day with your planner & photo/video team early on. We are here to support you and give you expert guidance in getting your dream day. It's easiest for us to do this if we know what you're looking for in advance. For example, if your number one priority is to spend as MUCH time with guests as you can, we're going to recommend a first look so that you can get all portraits done before the ceremony so you can actually join guests for cocktail hour. But if your focus is to get plenty of moments to soak in the day together without guests around, we can recommend a variety of ways to do this like a private dinner, private last dance, etc.
Best Piece Of Advice To A New Couple 
Enjoy this time. You may spend a few years dating, you'll spend a lot of years married, but the engagement period in your life is so short and I, all too often, see couples waste it on stress and worries. Take space during the planning process to just be together, dream of your future, and continue to grow and strengthen your relationship.
What do you like doing in your free time?
In my free time, I'm an avid reader, puppy snuggler, and certified wino.
Thank you for reading, we hope this blesses your wedding planning journey.
Cheers!
The Chancey Charm Team
SNAG OUR FREE WEDDING CHECKLIST
DON'T FORGET TO PIN THIS FOR LATER!