C & I met twelve years ago during a party hosted by the groom and his sister, but it wasn't until a trip to New Orleans that they realized there was undeniable chemistry. They value honesty and authenticity that has allowed them grow together – even while maintaining a relationship that was long-distance until shortly after their engagement. When C & I get a weekend free, you can find them enjoying a good meal, browsing a museum, or heading out to a concert. No matter what they have going on, these two are all about supporting one another 100%.
For C + I cookie cutter wedding design was out of the question. Their number one goal: create a fun, memorable experience for guests that is as unique as they are. From an interactive aura reader station to stylish, architectural design they incorporated elements guests didn't expect to find at wedding. With an eye for fashion and editorial-esque stylings, Isabelle envisioned taking their industrial downtown venue from blank canvas to warm, urban getaway for her guests to celebrate in style. The creative team accomplished this through non-traditional floral, strategic lighting, and texture play within the indoor/outdoor setting.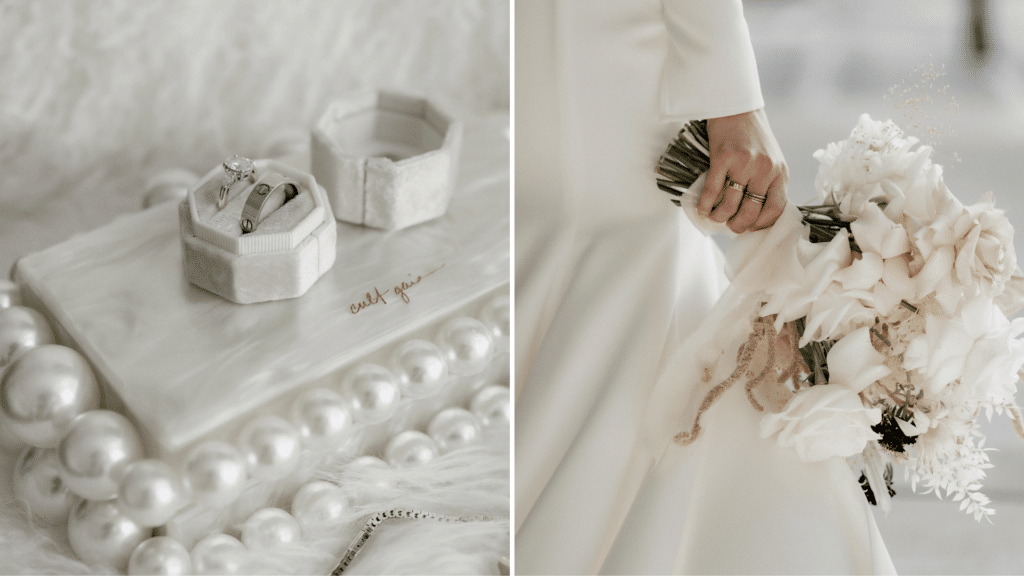 The bride and her maid-of-honor spent the morning at the chic Hotel Alessandra before beginning an urban photoshoot with her soon-to-be husband around Houston's downtown area. At the venue, our team was setting up the rooftop ceremony.
One of the greatest challenges of working in most downtown areas is parking and permitting. Our team worked closely with the city's events office to secure permitting that allowed us to block off all parking in front of the building for approved vehicles only, allowing easy loading & unloading for the team as well as prime parking for VIP guests. We also secured proper permitting for serving alcohol in the terrace area used for cocktail hour which, while connected to their venue, actually fell under the jurisdiction of the city instead of the parks department as their building did.  
Clear ghost chairs ensured that the focal point was the downtown Houston view. Florist Flora & Fauna assembled modern, architectural columns to frame the couple with reflexed roses, babies breath, dried palms, and various wild textured pieces . At the top of the aisle, low ground arrangements created a statement for guests the moment the stepped of the elevator. 
During cocktail hour, guests headed down to the ground floor terrace for bites & cocktails under the string lights & oak trees. While they enjoyed asparagus prosciutto filo, our team managed the move of the rooftop elements to the reception in the mid-level cafe space. 
In the cafe, uplights washed the wall in a candlelight color giving a touch of warmth to the industrial brick and metal beams. The columns from ceremony were relocated to frame the white grid board photo booth backdrop with a modern "I+C" neon sign a fixed to the top. Similar white grid boards were utilized to hold the welcome sign and seating chart, creating a cohesive look throughout off the venue spaces. 
Aura Reader, Mood by Moss, fabricated a yurt for their sessions in the reception space. Guests received one print for themselves with a reading, the second print was put into a guest book for signature.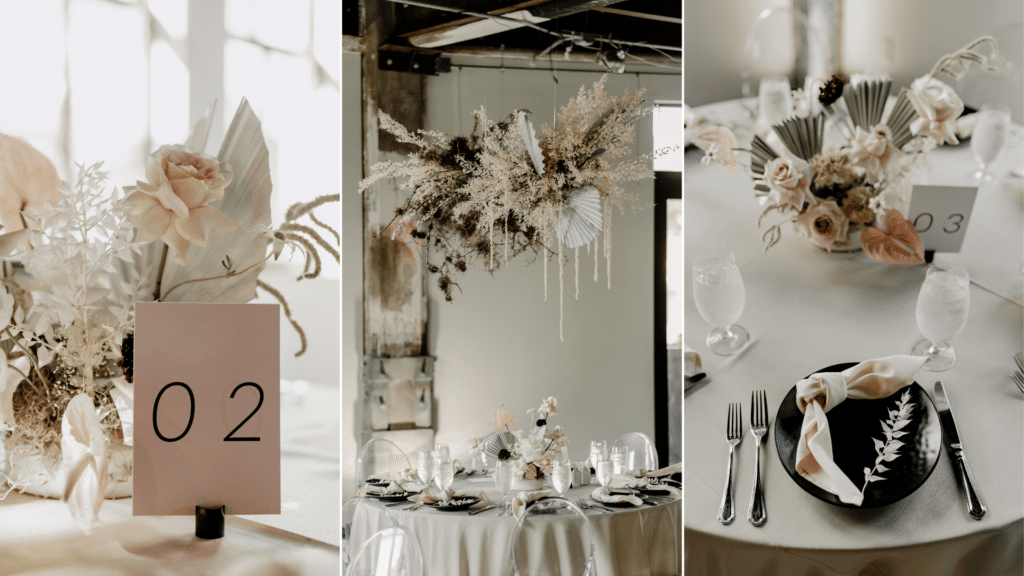 Three completely unique floral installments filled with textural elements and conceptual shapes created show stopping moments above guest tables. The tables themselves were a two tone blush or taupe with identical ikebana inspired centerpieces in white painted terracotta dishes. The table numbers themselves mimicked the tables multi-tonal nature with minimalist typography and a simple black stand.
Black plates is one of the design concepts the bride wanted to use with from the start. Although Houston did not yet have a rental company offering matte black plates, our team sourced a company who was willing to add to their inventory to make this vision a reality. These plates grounded the tablescape and were practical as the family-style dinner service requires guests to have plates at their seat in order to be served from the communal platters.
A knotted napkin and sprig of dried ruscus finished off each place setting. Which guests removed for the dinner service of beef sirloin, chicken parmigiana, green bean amandine, and marbled potato gratin.
Once the dance floor opened, the bride changed from her sleek gown into a chic white pantsuit with sneakers for comfortable and stylish dancing. Guests kept the bars busy, while catering set up a late night churro station to keep everyone fueled up. After the rose petal send-off, the couple headed off to their after party at a downtown Houston hot spot.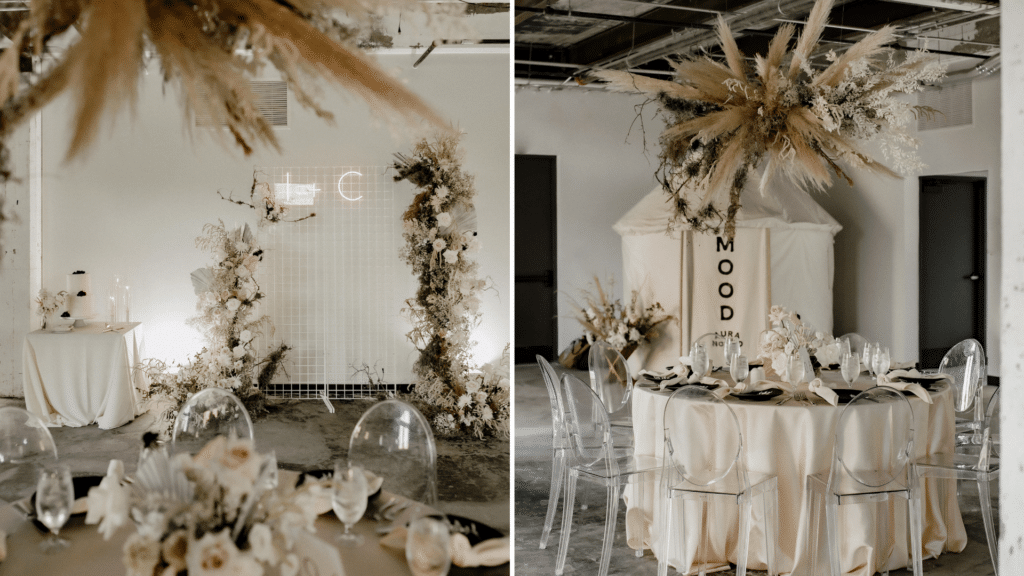 Planning & Design: Skylar Caitlin for Chancey Charm Houston
Beverage: Palace Party Beverage Co., https://palacepartybevco.com/ 
Beauty: Adorne Artistry, https://adorneartistry.com/ 
Cake: Cakes by Gina, http://www.cakesbygina.com/ 
Catering: Cafe Natalie, https://www.cafenataliecatering.com/ 
Aura Photography: Carrie Moss, https://carriemoss.world/ 
DJ, Lighting, & Neon Sign: LG Event Production & Entertainment, https://www.lgeventpro.com/ 
Florist: Flora & Fauna, http://www.floraandfaunatx.com/ 
Officiant: Instant I Do, https://www.instantido.com/ 
Photography: The Brothers Martens, https://www.brothersmartens.com/ 
Rentals: Aztec, http://aztecusa.com/ 
Venue: Sunset Coffee Building, https://buffalobayou.org/facility-rentals/sunset-coffee-building/ 
SNAG OUR FREE WEDDING CHECKLIST
PIN THIS WEDDING INSPIRATION!