A and S met briefly when the bride was interning at the restaurant where the groom worked as a chef. A year later they met again by chance at a bar, they reconnected and the rest, as they say, is history. 
When the couple originally found their dream venue, Antelope Trails Ranch, in Jackson Hole, Wyoming, she didn't know the connection her family had to the location. But once she learned that her grandfather had taken her father there as a young boy, they knew it would be the perfect backdrop for their vows. 
Guests were greeted at their hotels with welcome bags stuffed with weekend itineraries, sweet and savory treats, water bottles, wedding cups featuring the couple's pup Fennel, hand sanitizer, and bandanas for the welcome dinner that doubled as face masks. 
On Friday guests were picked up at their hotels in their finest denim looks and transported to the property for a "Jarty" Welcome Dinner. On the lawn by the main gate sat a fire pit, bar, and lawn games for guests to enjoy as they arrived. The bar served their first specialty cocktail of the weekend, a Ranch Water, which paid homage to their current home state, Texas. 
As guests enjoyed reconnecting and beginning the weekend's celebrations, our team was working closely with the property manager to time dinner. A pop-up storm had begun over the mountains in the distance, a common occurrence in the Tetons, and we were bracing for a shower. Our timing could not have been more perfect as guests were ushered into the dinner tent just as the first drops began to fall. 
Inside the tent, guests found their table via wine bottles with labels including the table name and guests assigned to that table. Natural wood folding chairs surrounded khaki checked linens. Bud vases and vintage postcards acted as the minimal decor that left space for the platters of their family style meal. The dinner menu included Asian noodle salad, roasted pork butt with a variety of sauces, marinated cucumbers, and vegetarian dumplings. 
After dinner, guests could choose to roast s'mores in the fire pit or move indoors to the gate house's large bar lounge area to continue their pre-wedding celebrations. Transportation for guests not staying on property returned to take folks back to their hotels and all settled in to rest up for more excitement the following day.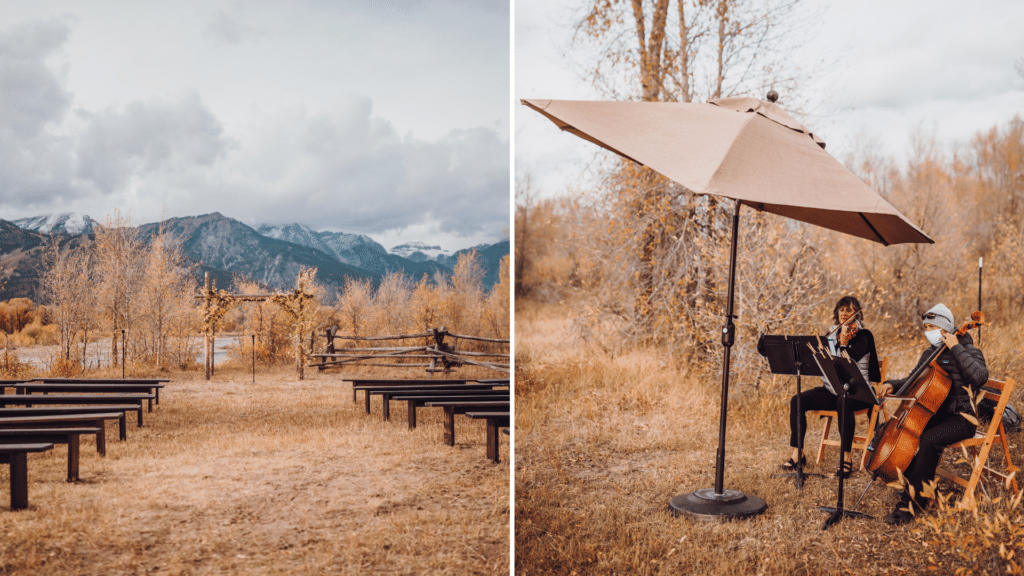 For Saturday's events, we moved deeper into the property, hosting the ceremony riverside and reception events on the main house lawn. The girls relocated to the gate house for hair and makeup, while the guys enjoyed lounging around the main house and fishing in the creek. 
Bride Shannon has a background in marketing and took on creating all the paper goods herself. Our top tip for her, and all of our couples who want to create something for their day, was to complete all projects at least one month before the wedding to reduce stress levels in those final few weeks. She heeded our advice and was able to turn over all the beautiful pieces she'd created to place them for her worry free. 
The groom met the bride on the bridge for their first look carrying her bouquet. Florist Magnolia Ranch hand crafted a whimsical bouquet of delicate and wispy blooms combined with romantic ruffled flowers. The bouquet combined sunset colors with accents of creamy tones. After their first look, they read their vows to one another privately before relocating to the hidden tent at the riverside ceremony space.
Magnolia Ranch utilized the existing wooden archway and accented with newly turned aspen branches that mirrored the golden glow of the foliage all around. The bride's grandfather officiated and a string quartet played personally selected tunes that added a greater level of romance to the fairytale-like setting.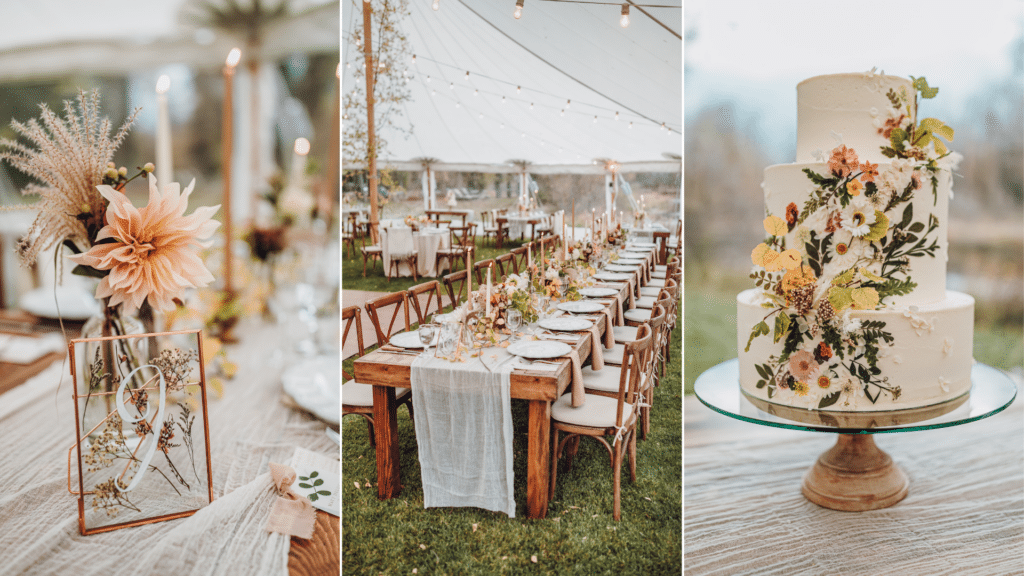 Guests made their way back to the main lawn along the property's trails and were greeted at key turns by staff offering pre-poured wine. Once back at the lawn, they could head to the bar to grab Saturday's signature cocktail, the Paper Plane – a delicious mixture of bourbon, amaro, aperol, and lemon juice – or mingle and take their pick of the pre-packaged slider options of beef or fried chicken.
While they waited for the couple to finish up their portraits, guests could also sign the couple's guest book. With the bride as a baker and the groom an executive chef, there was no better guest book for these two than a cookbook they could love for years to come. We love to recommend a guest book that has meaning or usability for our couples. Some of our past favorites have been this cookbook, coffee table books about the couple's honeymoon destination, and a minimalist guest book they can continue to reuse in their home's guest room.
Once invited into the tidewater tent, guests were greeted with a mixture of rectangular farm tables and round tables with eggshell linens. Pressed flowers were a motif of the wedding from the vellum in the invitations, to the table numbers, to the cake. A similar natural look continued through all the wedding florals including the same gold-colored birch for the tables and adorning the tent's poles. Amongst the loose greenery were vintage brass candlesticks with taper candles of ivory and cafe au lait as well as petite bud vases for a pop of color all placed on top of gauzy cream cheesecloth runners.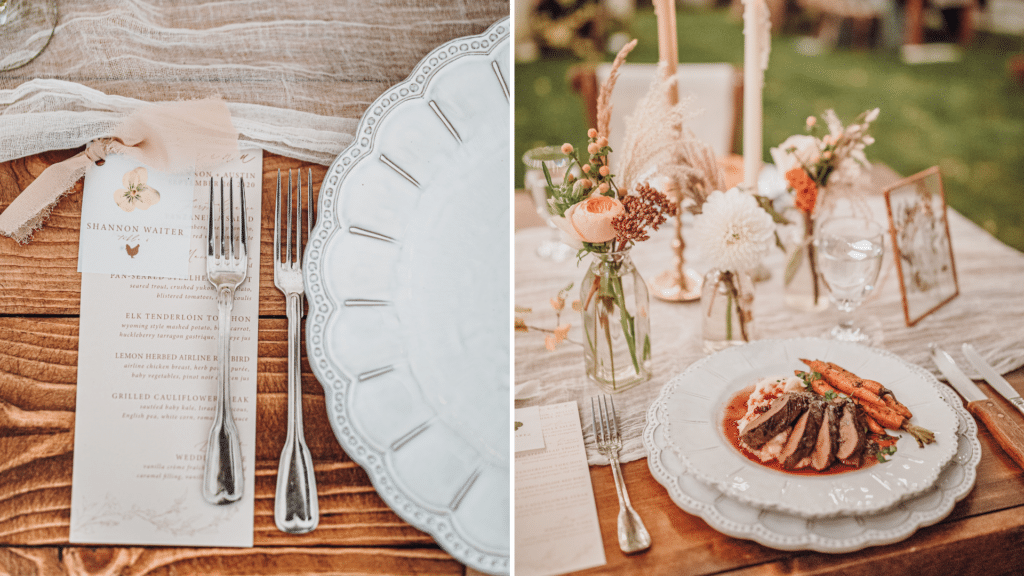 Each place setting had a scalloped edged charger, barley-colored napkin, classic silver flatware, water goblet, wine glass, and menu with a place card tied to the top with silk ribbon. The menu listed all the options guests had to choose from before they arrived, a stamp of a chicken, elk, fish, or carrot indicated the guest's selection. 
As food industry professionals, you can imagine that what they offered their guests to eat would be important. Bistro Catering did not disappoint in service or flavor. The first course was a Grilled Plum Panzanella Salad. The entree options included a lemon herb chicken airline breast, elk tenderloin torch, pan seared steelhead trout, and grilled cauliflower steak each with their own sides. And for dessert Jackson Cake Co. delivered a delicious three-tiered vanilla creme fraiche cake with salted Caramel filling that was embellished by pressed flowers. 
After dinner, the guests hit the wooden dance floor to party with the 8-piece band. Glow sticks and light up cowboy hats made for great favors and kept the party going late in the evening. When it came time to send the couple off on their honeymoon, our team worked with photographer Ama by Aisha to create a memorable photo moment. Due to the burn bans in the area, we had to pivot the original plan to utilize sparklers to safety. Instead, bubbles and cell phone lights offered a glowy effect to finish off this incredible wedding weekend. 
Wedding Weekend Coordination: Skylar Caitlin for Chancey Charm
Hair: Champu Salon, https://champusalonjh.com/ 
Makeup: Steph-Beauty, https://www.steph-beauty.com/ 
Cake: Jackson Cake Co, www.jacksoncakeco.com 
Catering & Beverage: Bistro Catering, https://www.bistrocatering.net/catering 
Strings: Mimi's Violin
Cinema: KGB Productions, http://www.kgb-productions.com/ 
Entertainment: Uptown Sound, Green Light Booking, https://www.greenlightbooking.com/uptown-sound-wedding-cover-band/ 
Sound Equipment: Hughes Production, https://www.hughesproduction.com/ 
Florals: Magnolia Ranch, http://www.magnoliaranchjh.com/ 
Photography: Ama by Aisha, https://amabyaisha.com/ 
Tabletop Rentals & Seating Chart: XOWYO, www.xowyo.com
Restroom Trailer: Macy's Services
Table & Chair Rentals: Tavolo Rentals, https://www.tavolorental.com/ 
Tent & Staging Rentals: Canvas Unlimited, https://canvasunlimited.com/ 
Venue: Antelope Trails Ranch, http://antelopetrailsranch.com/ 
SNAG OUR FREE WEDDING CHECKLIST
PIN THIS WEDDING INSPIRATION!