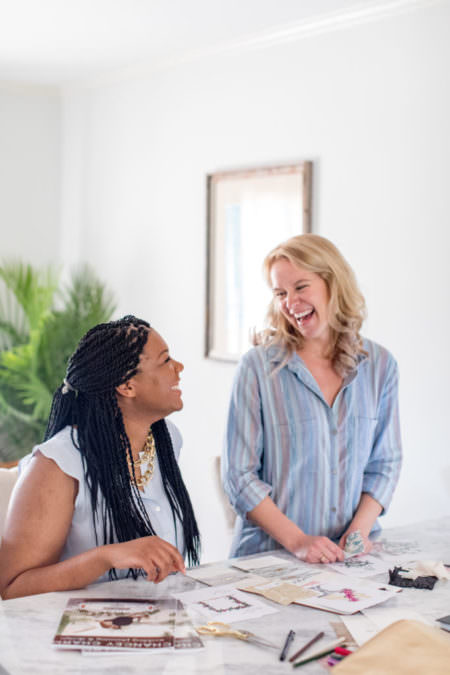 Hi Friend!
I've already given the dish on my publication resource, but I would love to chat for just a hot minute about my other new wedding planner resource, How To Book Your Team With Confidence.
Is your business growing? OR Is your availability dwindling due to life circumstances and needs? Do you want to hand off clients to your team, but just don't know how to make the transition? Are you struggling with a process for sales with your team? 
Let me be painfully honest. I've been there. Ten full planning weddings on the calendar, a newborn, an angry client, ten leads sitting unanswered in my inbox, dinner burning in the oven, tears streaming down my face – unfiltered burnout friends.
So, with opportunity in my inbox and frustration in my soul – I built a team. Happy smiling faces filled out site's pages. But, I quickly found myself again overwhelmed with the task of now managing and booking these new team members.
How did I beat it? Honestly, I didn't. I embraced it!
This is a JOURNEY not a destination. Changing team dynamics, experience levels, leads and sales patterns requires a fluctuating sales process. This guide includes Sarah Chancey's simple team sales program, which will help you assess where you are and which process is the best fit for your team in this season.
WHAT IS INCLUDED:
ASSESSING YOUR POSITION
3 PROCESSES FOR BOOKING YOUR TEAM IN DIFFERENT SEASONS
EXTERNAL FACTORS TO CONSIDER WHEN BUILDING AND BOOKING YOUR TEAM
PRO TIPS FOR BOOKING YOUR TEAM
If this sounds like you, I'd love to be even a small part of this journey with you. Feel free to reach out with questions about my guide here.
Cheers!
FOUNDER, CREATIVE DIRECTOR
a.k.a "Do-er of #allthethings"
PIN THIS POST FOR LATER!