Picture this.
Vail, Colorado. Population 4,500. Snow from October to May.
It's absolutely dreamy. The perfect place for a wedding, right? My clients thought so, and we were there for their wedding a few years ago. Everything was going smoothly, and we were just minutes away from the ceremony. 
And it was at that moment, the bride accidentally got a red stain on her dress. (I KNOW. It was straight out of a movie.) 
Unfortunately, there wasn't time- or access- to pop over to the next town for a stain stick. What we were able to do was grab one out of our emergency kit. We treated her dress, and the stain was gone before it was time to walk down the aisle. 
Here's the thing. You can do all of the planning and preparing in the world for your wedding day, but you just can't anticipate when something is going to go wrong. All of a sudden, you realize that the dreamy venue you booked on an island or in the middle of a bustling city is 45 minutes from the nearest Target.
It's why I created the wedding emergency kit checklist. After ten years and hundreds of weddings, I've seen it all, and I know every single item you need to have on hand so that you're covered no matter what happens.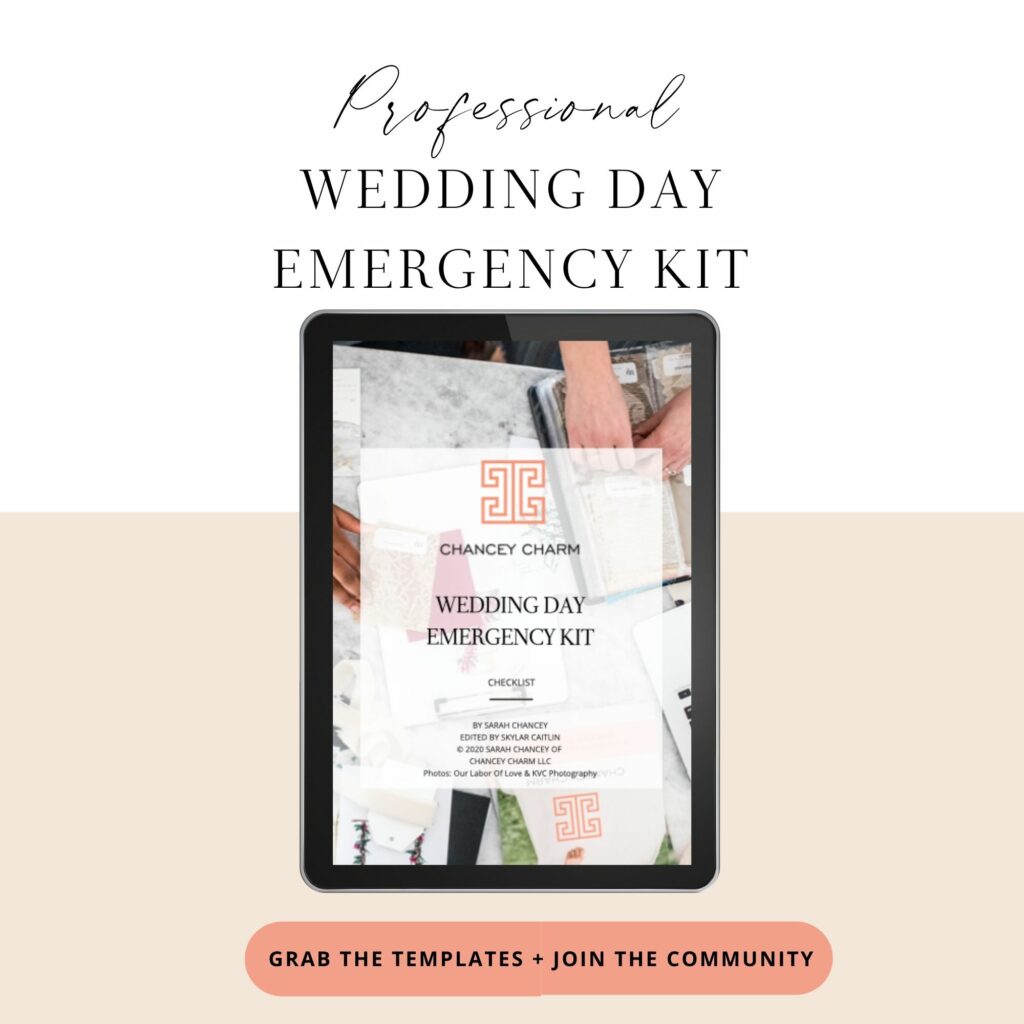 The emergency kit checklist helps you remember absolutely everything you might need for your ceremony and reception. No more piecing together a list from the 13 other wedding websites you've been scouring- it's all in one comprehensive, printable list. 
If you're a planner busy preparing for your client's upcoming wedding, you can find the wedding emergency kit in The Launch Bundle + Community Pass for Planners. And if you're a bride that's trying to make sure you've got all your bases covered, you can access the checklist in The Planning Bundle + Community Pass for Brides.
Both bundles come with a crazy amount of information, including
more than a dozen other planning resources and training videos. You also get exclusive membership in an online community support system (that includes yours truly!) so you can stay connected with others who are in the same boat as you.
If you're ready to plan and coordinate your wedding without a hitch, this resource is your BFF.
You've got this, friend!
Sarah Chancey & The Chancey Charm Team