The Chancey Charm team is overjoyed to officially welcome Anna Yencho to the family as Chancey Charm's Charleston Wedding Planner and Coordinator. With 4+ years of event design experience, a passion for making each couple's wedding as unique as they are + a love for all things Lowcountry, Anna is the perfect wedding planner to help Charleston brides plan a sophisticated wedding packed with southern hospitality. We're helping brides get to know her below! She's sharing her favorite part of the wedding planning process, advice for brides-to-be + more. Cheers!
–The Chancey Charm Team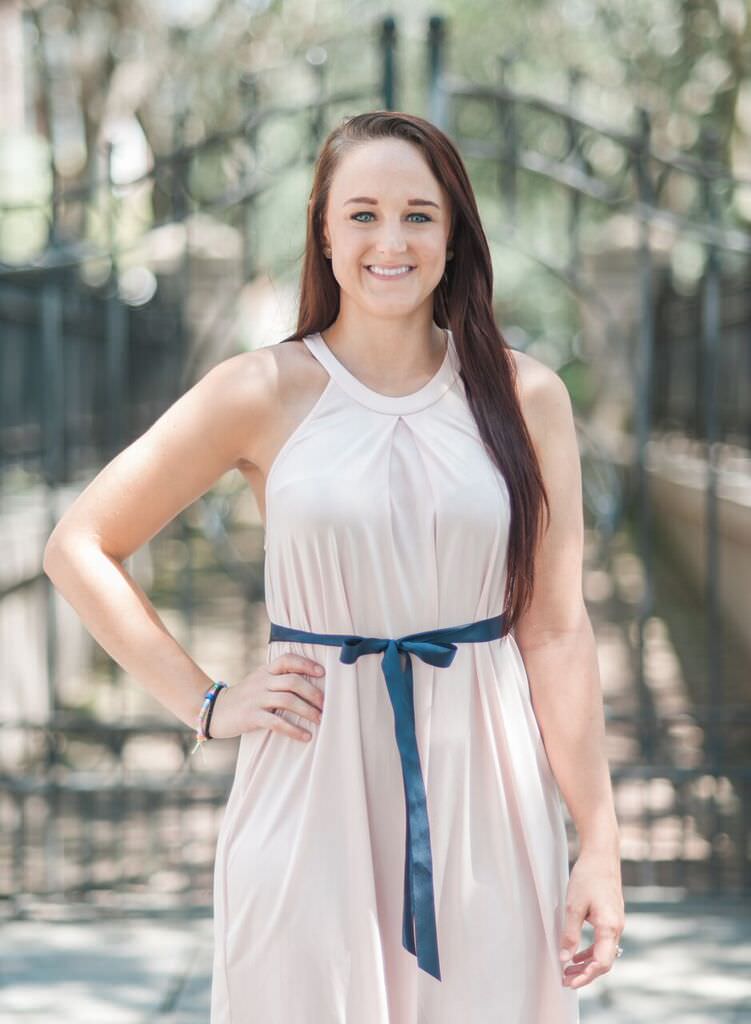 Name
Anna Yencho
Hometown
I grew up in Columbia and then went to college in Due West, SC (we had a Dollar General and no stop lights!). After college, it was an easy decision to move to Charleston, such an old school, romantic city.
What did you do prior to joining Chancey Charm / What drew you to planning?
Prior to Chancey Charm, I worked for another Event Planning company, Confetti Events. I focused mainly on wedding coordination, as well as florals & decor. I fell in love with planning after I had the opportunity to plan my sister's wedding in college. I knew it perfectly paired my love of making people happy with my OCD/planning skills.
What's your favorite part of the planning process?
My favorite part of the planning process is finding out a bride's style and helping her pick out the decor for her wedding. There are so many options and fabulous pieces, and brides always have those special decor items to add a personal touch.
What's your favorite style?
My favorite style is a mix between new age and bohemian. Sheer fabric draping with touches of gold, ornate chandeliers hung from clear top tents, and tons of natural candle light. Think of a modern Midsummer Night's Dream!
What's your advice for someone thinking about becoming a planner or joining the wedding industry?
My advice for someone joining the wedding industry is to make sure it's your passion. While this job can be very rewarding, it is filled with long nights and lots of hard work. You have to love it!
Why Chancey Charm?
Chancey Charm caught my attention because of its flawless design looks and amazing opportunities for up and coming planners. The leadership of this company is absolutely amazing, and I can see myself growing as a business owner and a planner here. More branding and publicity is always a great thing!
Photo Credit: Rachel Red Photography
What's your best piece of advice for a new bride?
Don't kill yourself on a wedding diet. You want to feel comfortable and beautiful on your wedding day, but you have to enjoy the process. Eat that piece of cake, drink that glass of wine, and sweat in your barre class, but love every minute of it!
What's your favorite reception song, you know the one you secretly dance too in the back when you think no one is watching?
I am a total sucker for anything by Bruno Mars. I literally have to stop myself from dancing to his music in front of everyone.
Do you have any pets?
I have two pets – a 6 month old Beagle/Dachshund mix named Zoe (who is always curled up in my lap), and a 5 year old Brindle mix named Sammi.
Do you have a hobby?
I love to sweat! Working out has always been my way to get some personal me time, and I love the feeling after you finish great workout.
What's your favorite flower or gown designer?
My favorite flower would have to be a blush peony. I love the fluffy texture! My favorite gown designer is definitely Hayley Paige.
What's your favorite movie?
"Snow White and the Huntsman," I love Chris Hemsworth!
What's your favorite restaurant in your city?
My husband and I like to try a new restaurant once a month, that way we can try all the wonderful food in Charleston (and there is a lot)! My favorite right now is Eli's Table, the best fried brussel sprouts!
Are you a bride in the Charleston area? Contact Anna today and start planning your dream wedding!