We're so excited to have The Little Nell join us in our Chancey Charm Denver + Rocky Mountain Wedding Planner's Wedding Venue interview! This luxury 5-star Aspen, Colorado hotel is also a wedding venue loved by brides for its multiple ceremony and reception locations, stunning mountain views and exceptional service. As this Colorado wedding venue truly speaks for itself – just look at the amazing photos below – we thought in place of our traditional venue highlight, it would be fun to have The Little Nell share some of their very own trends as we approach engagement season! Enjoy the below from The Little Nell!
Photo: James and Schulze
Trends The Little Nell Brides Are Sure To Love
Festival weddings. Inspired by the "festival culture" of Coachella, etc. We have had events on Aspen Mountain, at the base in the Gondola Plaza and at private ranches with gourmet picnics, food stations and at long family style dinner tables highlighting local foods and craft beer for out of town guests to experience. Think boho chic with plush blankets, bright colored pillows, unique festival lighting and a casual and friendly atmosphere with lawn games like bocce ball and even ping pong.
Highly personalized weddings. Little Nell customizes every wedding, making each bride's experience unique to their own vision and dream. Brand your wedding from the save-the-date and social media wedding hashtag to ice cubes, napkins, welcome totes, branded food (we have created unique and edible desserts with the couple's name or your own personalized branded logo on Ajax Double-Double slider buns, etc.)
Unique is the new trend! Our clients want to be different and have special and one-of-a-kind experiences for their guests. Think a gondola ride to the top of Aspen Mountain while sipping our world famous hot cocoa prepared with Valrhona Chocolate and house-made marshmallows. Our Master Sommelier is available to create a unique event experience, i.e. tableside cocktails, a craft cocktail specialty bar, Master Sommelier-paired wine dinner and wine service at your wedding.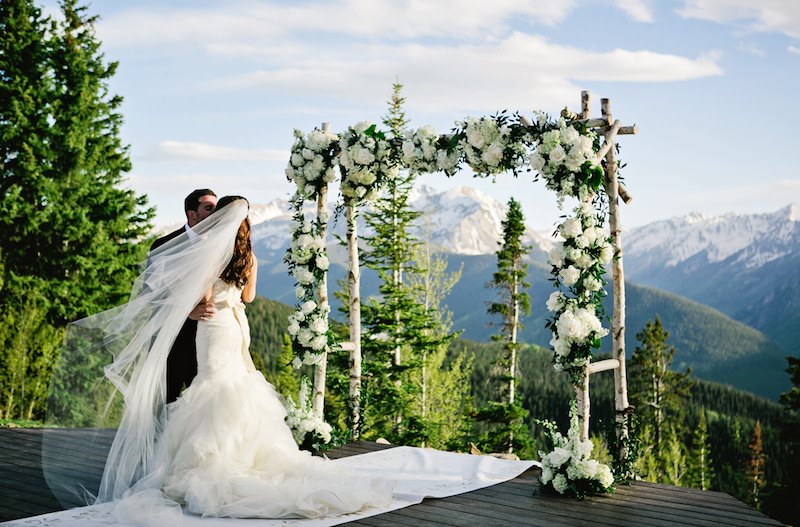 Robin Proctor Photography
We are staying relevant with unique and exciting experiences for couples and guests! Summer Adventures include Off-Road Jeep Tours with a picnic lunch, Stargazing Jeep Tours with hot drinks and sweet treats, Fly Fishing with gourmet snacks or picnic lunch, and biking adventures. We can also arrange rafting, guided hikes and more. Winter Adventures include: Snowcat Powder Tours with a private lunch paired with wines from our Master Sommelier and chair massages to soothe your muscles, First Tracks on Aspen Mountain in the morning, Last Tracks with ski patrol on Aspen Mountain, Groom the Mountain with a Snowcat driver, learn to operate a Snowcat at our Snowcat Academy at Buttermilk Mountain.
Social media is playing an enormous role in how brides find venues, vendors and inspiration for their wedding. We recognize this and have a large presence on social media as a hotel and as a wedding venue. We engage guests and Nell enthusiasts and partner with world class planners and vendors, showcasing all we can offer to anyone who is watching via Instagram, Facebook, Twitter, our website and blog. Video is also a tool we commonly use at the Nell to capture events, adventures and more. Our brides are part of an image-based virtual generation, so video has been an important tool for our destination brides to experience our venue and events from afar.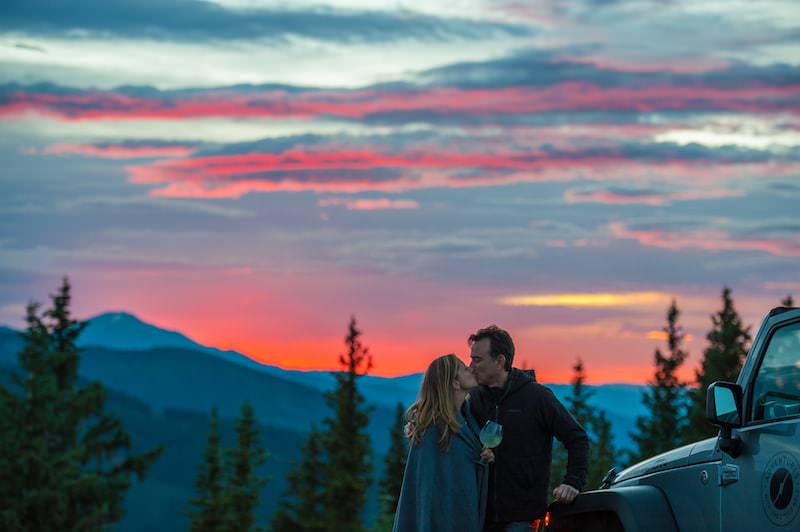 Photo: Steve Goff Photography
Food and wine continues to be very important to our clients, and beside the stunning view from our Wedding Deck on Aspen Mountain, it's often the reason most couples book at The Little Nell. With a Little Nell wedding, you get the food and service of a Five-Star restaurant and that is not possible at any other venue in Aspen. We offer tableside ordering (no pre-determined meals on your response card are necessary) and prepare each guest's dish "a la minute" (made to order). Yes, even for a wedding of 200 guests! In addition, we have the largest wine program in the state with more than 20,000 bottles and have access to unique and specialized wines (many at incredible value) that no other venue has in the state, as well as magnums and other large format bottles.
We love and are excited about what we do and our team brings that excitement to each client – weddings are about joy and we make sure our clients feel special and at ease through their personalized experience at The Nell.
Learn more about The Little Nell here and follow along on Facebook and Instagram! For more information on booking this stunning venue for your wedding, contact Senior Event Sales Manager Melina Glavas at 970.920.6322 or mglavas@thelittlenell.com.
Chancey Charm Denver + Rocky Mountain Wedding Planner