Florist? Check.
Caterer? Check.
Coordinator? Chancey Charm Check.
But, what about music? You could find a harpist for serene background music. Maybe you should hire a DJ for a full range of music. Then again, you might want a wedding band for some classic charm.
Is your head spinning yet, friend?
I'm here to help! Let's talk through the aspects you need to consider, the pros and cons of a DJ and a band, and what your choice should be.
Initial Considerations for Your Wedding Music
Venue Size
The size of your venue can be a swift deciding factor in choosing your music provider. If your ceremony or reception is in a small space, a DJ is likely the best bet. However, that doesn't mean you can't hire a soloist, especially for a dreamy melody as you walk down the aisle. 
Ambiance
Your wedding is all about celebrating you and your fiancé, and the music helps set the stage for that. It's easy to work with a DJ to choose what kind of music they'll play. But don't write off a wedding band as nothing but the traditional 4-piece ensemble. With some searching, you can find a group for any genre, including blues, swing music, or even Celtic tunes. 
Consider which option will feel most natural in your venue and in tune with the vision you have for your wedding. If you're having a small, intimate wedding, a band might feel out of place among your closest friends and family. Conversely, a DJ might feel like a meager choice when you're celebrating with 300 other people. 
Accessibility
Some locations are easier to reach than others. If you're getting married at a secluded mountain retreat, it might be difficult for an entire band to get to you. A destination wedding offers the chance for travel, but remember that music options will be governed by who's available in the area of the country you're heading to!
Music Preference
Do you love the idea of live music or does a nonstop DJ mix sound better to you? Maybe there's a local Bluegrass band you follow or your fiancé really enjoys dancing to all 90s hits. The music that the two of you enjoy has a huge impact on who should provide entertainment for your big day.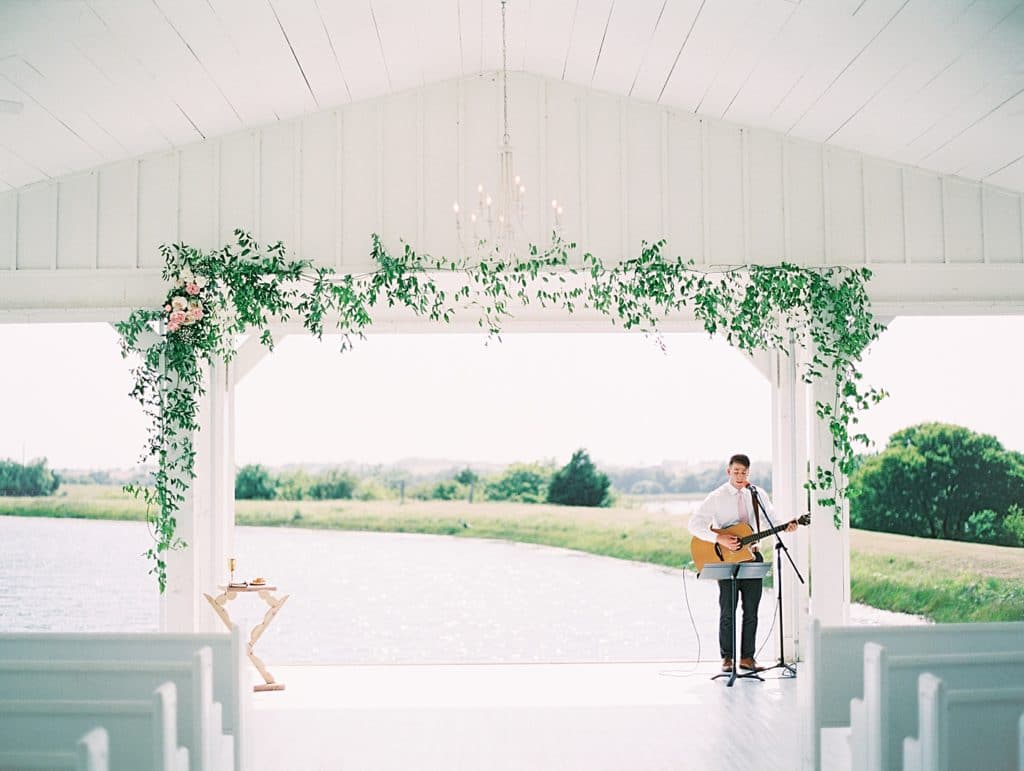 I've got one hard and fast rule when it comes to hiring a DJ— you must find someone with wedding experience. There are a number of benefits to choosing a wedding DJ.
Music options.

The average DJ has 31.5

million

songs

in their library. 

Flexibility.

A DJ typically requires less space than a band, so they can fit in smaller venues with ease. 

No breaks.

With a pre-set playlist, DJs are able to step away for a break without a pause in the music and entertainment for the night. 

Budget friendly.

The Knot found that couples spend an average of $1,200 on a wedding DJ, compared to $3,700 for a band.
And of course, check out this guide that walks you through how to select your wedding DJ.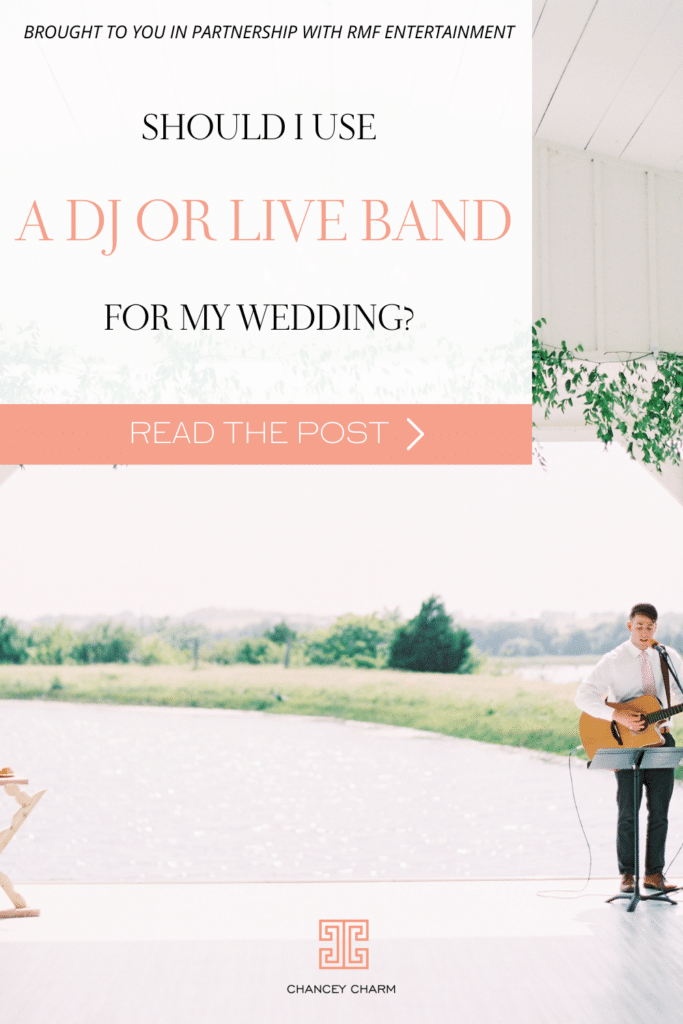 As more brides gravitate toward the convenience that a DJ can offer, bands continue to provide a classic feel to weddings. Don't think you have to be planning a traditional wedding to choose a band, though! What are the advantages of a wedding band?
Unique music

. With the endless band options available these days, you can find a group that plays in almost any genre.

Special experience

. There's a reason people pay hundreds of dollars to see their favorite artists in concert. There's something memorable about the experience that live music provides. 

Budget flexible

. The cost of a DJ isn't going to vary a great deal in your area. However, you can choose a band that's as big or as small as you want, shaping your needs to fit your

budget

. 
So, should you choose a DJ or a band?
Well…
That's 100% up to you and your fiancé!
When it comes down to it, the two of you need to factor in all of the initial considerations and decide what makes the most sense for your wedding day. Remember that your music provider for the ceremony doesn't have to be your music provider for the reception. Feel free to mix and match! It's all about what makes you two happy.
Happy Planning Friends,
The Chancey Charm Team