Last week, my husband and I were blessed with the opportunity to spend a few days at Old Edwards Inn, in Highlands, North Carolina.  We've been able to escape to this special spot a few times, and each visit surprises us with new adventures and a deeper love for the city and resort.  As a destination wedding expert, I can't recommend Old Edwards Inn and it's wide variety of accommodations and venues enough.  Nestled among the mountains, you'd be hard pressed to find a place that could beat the views, food, amenities and attentive staff at Old Edwards Inn.  It really is impossible for me to adequately convey all of the wonderful details of this mountain destination wedding dream.  So, I'm going to hit my faves, as well as, give you the scoop on their newest venue addition!
THE WELCOME
As you consider inviting your guests to a unique destination wedding location, that truly reflects who you are as a couple, details matter.  Guest experience is so very important when asking guests to spend a weekend away, and it's one of Old Edwards Inn's strengths.  Not only does the 45-minute mountain drive, into the mountains help transport your guests away from the hustle and bustle of city life, it's also a magical journey filled with breathtaking vistas and waterfall hikes.  This is the first time that my husband and I stopped to take it all in, and we managed to go on three waterfall hikes during our three day stay.  It really felt like an escape from reality for us, and when we arrived in Highlands, North Carolina at Old Edwards Inn, exhausted from the day's adventures – they were ready!  Every guest at the Old Edwards properties is created by a glass of champagne or Dove chocolate bar!  I mean, does it get better than that?!  I really adore how Old Edwards has embraced and integrated the magic of the mountains + the cute downtown scene into their property.  It feels cohesive and unified.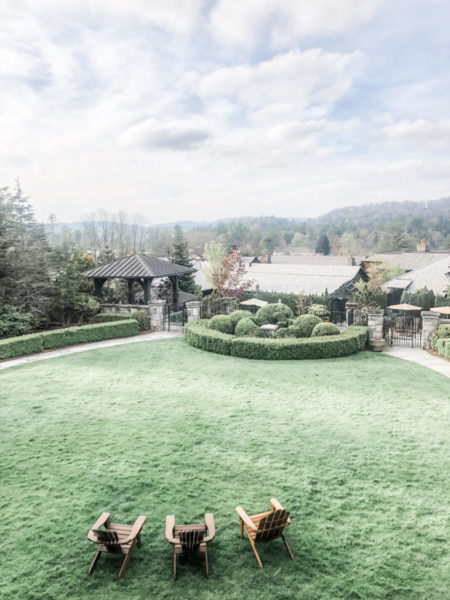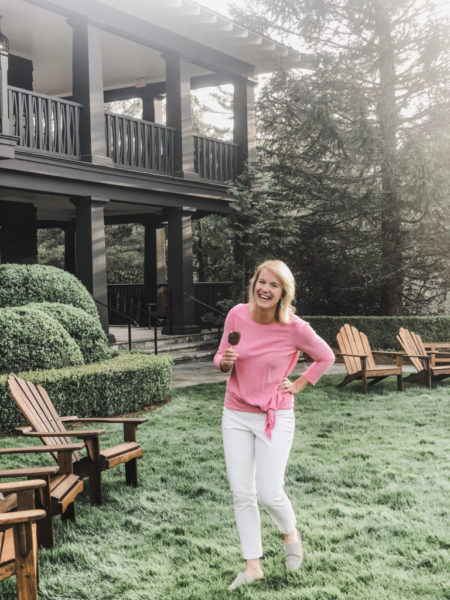 THE VARIETY
A lot of destination wedding locations are limited in the variety of accommodations offered for your guest.  That is NOT the case at Old Edwards, which has purchased and now offers several different accommodation options for your guests, at different price points.  The best part?! They are all extremely nice, clean and well staffed – with great amenities. Hence the gorgeous pool + hot tub shot below.  Rest assured, an Old Edwards property experience will be comfortable and above par in every way for your guests.  They even offer large home rentals, in town, which are perfect for the wedding party or a collection of family or friends to share.  What a fun win!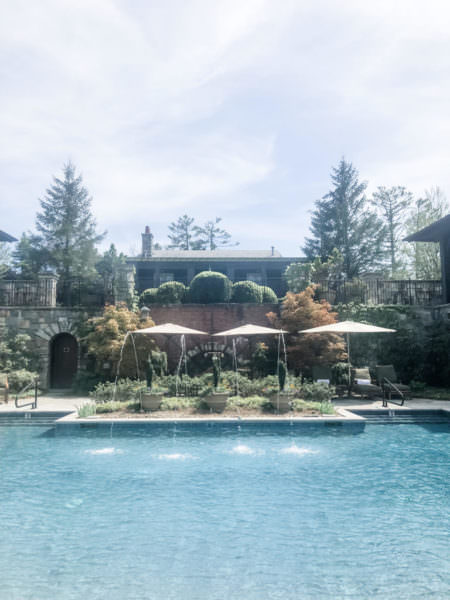 A PROPERTY TO YOURSELF
My favorite new (to me) accommodations was the Half Mile Farm property.  I had seen it online and fell in love, so my husband and I stopped on the way to our hotel to check it out. Wow.  What an escape for your guests.  And the best part? You can actually rent out this entire property for your wedding weekend, transforming it into the ultimate wedding destination and your personal party for three days!  Imagine your guests arriving to cocktails in your own private bar, and lawn games in full swing!  The cabins on site, provide the ultimate authentic mountain experience and would be a lovely backdrop for a barbecue and Friday night welcome party.
Chris and I were lucky enough to snag two paddle boards and scoot around the lake on the property at Half Mile Farm while we were there.  It was too much fun, and I spotted some bicycles and kayaks we will have to try next time.  Half Mile Farm is most certainly a new favorite, and I can't wait to see us do a lakeside, mountain ceremony with an al fresco reception on site.  Just pure magic.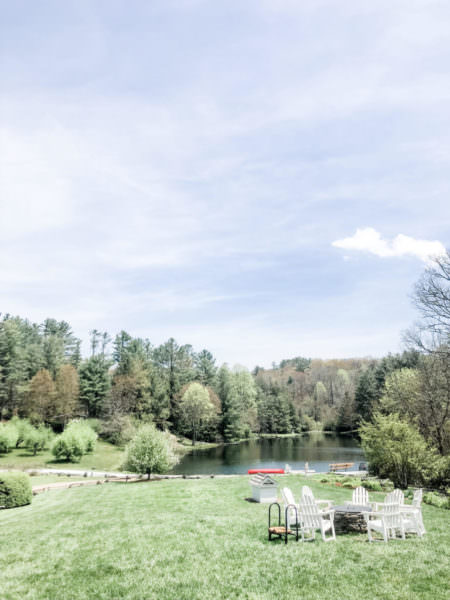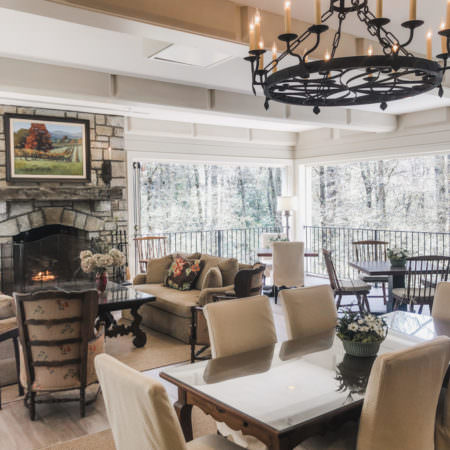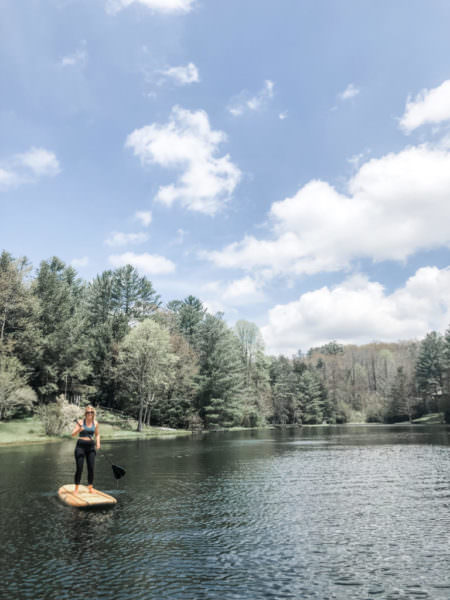 RELAIS & CHATEAUX PROPERTY
In case you were wondering what the food + customer service is like at Old Edwards, need we say more?!
Relais & Châteaux is an exclusive group of over 550 hotels and restaurants operated by professionals who share a passion for outstanding hospitality, incredible cuisine and local heritage. It is no small feat to be invited into this collection of outstanding properties, and Old Edwards is an amazing fit into this exceptional community.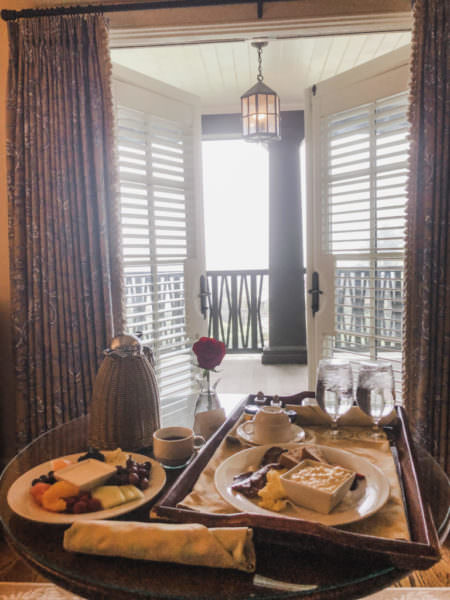 THE SCOOP ON THEIR NEW SPACE – THE ORCHARD HOUSE
Okay, okay, I know! I promised that I would give you the scoop on the latest wedding venue option on at Old Edwards.  And honestly, I'm over the moon to share it with you.  If you've ever seen a wedding at The Farm (you can check out the weddings we've done at Old Edwards Inn here), you know that it's all about a lush garden feel.  Couples swoon over their picturesque garden ceremony spot and portrait locations.  It's perfection.  But, could it be better?  I didn't think so, BUT the staff at Old Edwards is always innovating and pushing themselves to be their absolute best, and they have indeed improved the most perfect wedding location to now include The Orchard House.
The new 3,410 square foot open concept, ceremony + reception space within the gardens at The Farm is a huge win for our clients and you if you're considering an event in the Highlands, it's a must see.  The walls quite literally open up on all sides, via huge glass doors allowing you to have the comforts of a permanent covered space (luxe bathrooms and all), with the elegance of a lush English garden soiree.  Pickled pine wood ceilings and ship-lap wall details make the space inviting and irresistible.   The natural light is absolutely insane in this space and makes for the best photos.  Y'all.  I can't even.  We are counting down the days to our May wedding in this space.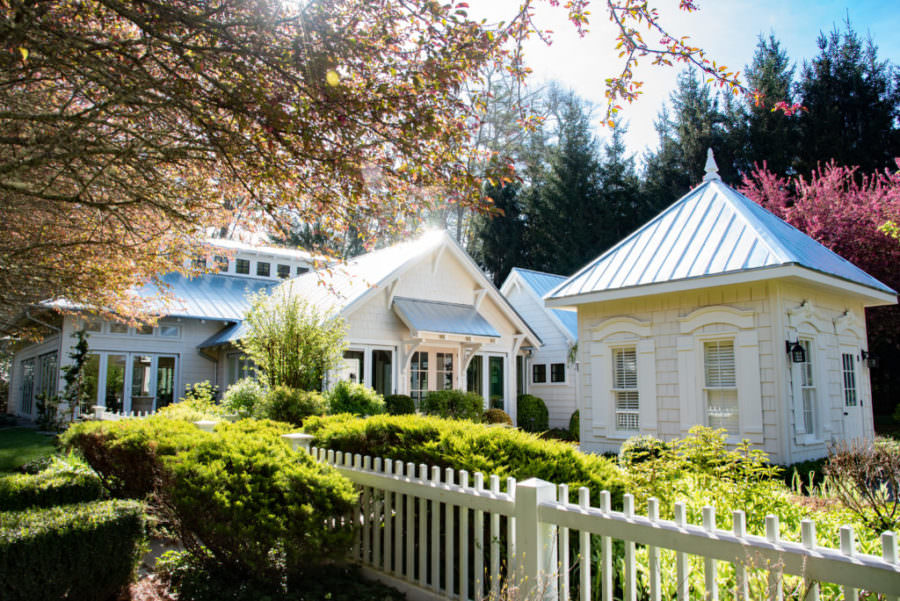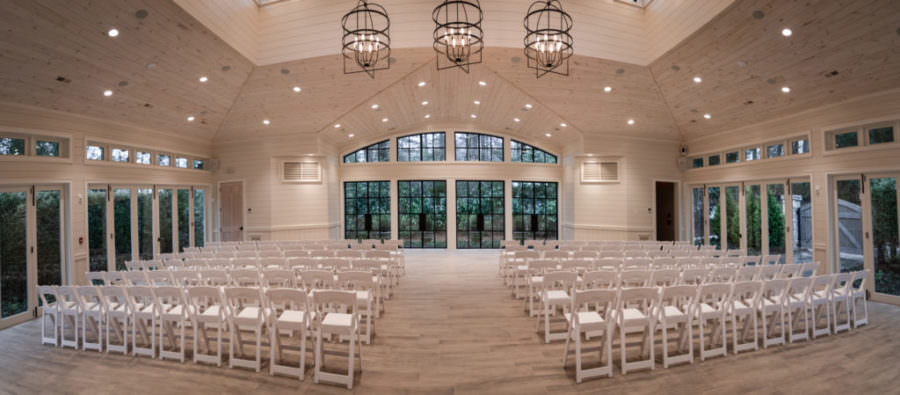 photos via Old Edwards Inn
WRAPPING IT UP
If you're considering a mountain destination wedding for your nuptials, I hope I've convinced you to spend a weekend checking out all that Old Edwards Inn and the Highlands have to offer.  I promise you'll leave enchanted and feeling great about a weekend escape for all those your love.
Feeling overwhelmed by the logistics of a destination wedding?  Don't worry – We've got you covered!  Simply contact us here, to get started planning your mountain destination wedding with on of our experienced destination wedding planners today.
Are you looking for information on Rockwood Lodge? We've got you covered here!
Want to know more about all the property offerings at Old Edwards?  Check out this post for the full overview.
Happy Planning!
Founder + Creative Director
Disclaimer: Occasionally I do share an affiliate link in my content, via social media posts, my youtube videos, the blog, emails, my ecourses, digital downloads, and the site. This means that if you click a link and purchase a product, I receive a little bit in return. This allows me to keep creating quality, free content. But, please know that I only share things I absolutely believe in! I also occasionally share a product I received for free in exchange for a review.  Again, the review I share is absolutely my own, and I only share products I believe in.