Chancey Charm knows you will love our preferred partner, La Joya Dulce Ranch. This ranch captures the spirit of Colorado and is the perfect option for Denver couples dreaming of a barn wedding with sweeping views. Many venues with outdoor spaces are summer only, but with La Joya Dulce Ranch a winter wedding with astounding snow-covered views of the Rocky Mountains is an incredible unique option. They have more to offer than just views, giving couples two reception spaces to choose from, package options that are filled with so many perks that wedding planning will be simplified. With so many options and breathtaking views, we think this is a picture-perfect place to say "I do."
Location
Steamboat Springs, CO
What is the history of your venue? 
My husband and I agreed that we wanted to "retire" to the mountains as we both love to ski – and I love my American Saddlebred horses (the oldest registered breed in the United States). We discovered the old "Triple Diamond" ranch for sale in Steamboat, which previously had been the Steamboat Llama Ranch. The bank had split it up into three pieces, and we purchased one "jewel." My husband's last name is Jacobsen and mine is Dunn, and his law degree is a "JD." So we knew we wanted to incorporate "JD" into the name. After some research, he came up with "La Joya Dulce," which means "the sweet jewel." We split apart all the old "triple" diamond signs and scattered those diamonds throughout the ranch allowing us to pay homage to the old name, while using the new.
While he does have a sweet tooth, he also proclaims me as his "sweet jewel" and we can think of no better place to start a life together than on this place of peaceful heaven.
The property became host to my concept of a wedding venue five years after we purchased it as we wanted to share this beautiful slice of Colorado with others.
What is the best feature of your venue for couples on the venue hunt?
Our views are only surpassed by our staff. We are the only award winning venue in Steamboat and we have been so since our first year of operation. No wedding here is "cookie cutter." Every set up is different as couples can choose where to get married, drink, eat, and party … yet all of our areas have an incredible flow.
Add that our views of the mountains are intimate – you are a part of the landscape – they are not far away – the mountains are so close you can touch them. Add our varied terrain – from pasture to valley to creek to pond to windmill to aspen groves to hills … and couples can't fail to find inspiring places for their photos.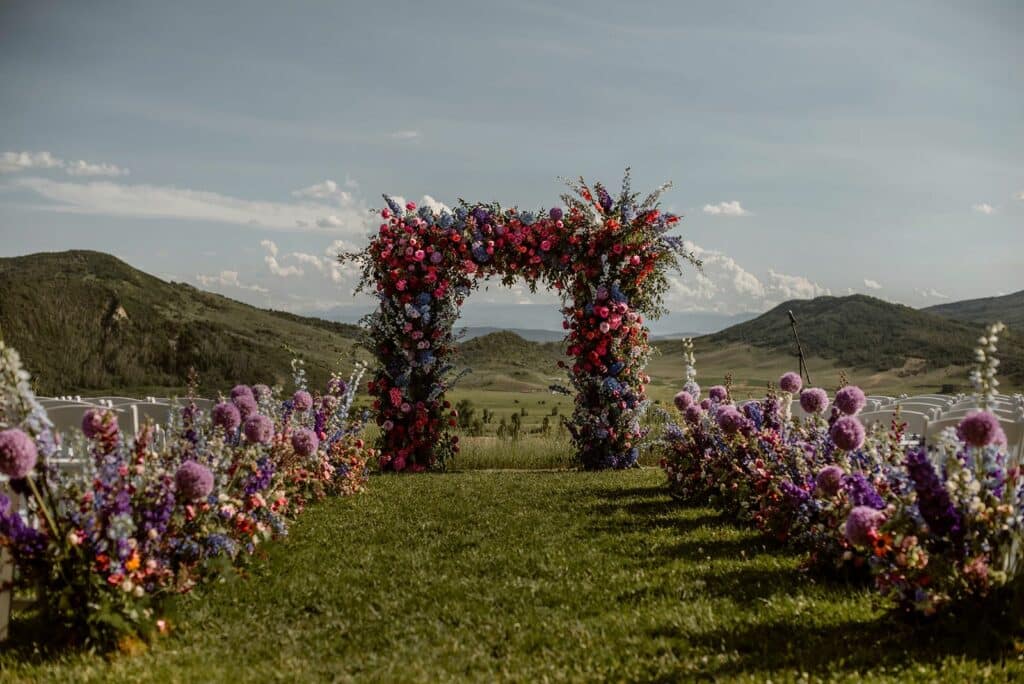 How many people does your venue hold for an event?
We have multiple event spaces with an overall maximum capacity of 400.
Our barn seats 100 very comfortably, or 150 "tight." It is permitted by the county to seat up to 175.
Our pavilion can seat up to 900 (it is 12,600 sq ft), however, our permit maximum is 400.
(Please do not take these literally into a feature – I am supplying to be entirely transparent.)
What perks does your space come with? (tables, chairs, stunning views, etc.)
La Joya Dulce sits on the bench of the Elk River Valley – home to the largest herd of elk in North America. So animal sightings (elk, moose, deer) are common. We also look across the valley to the local landmark mountain "Sleeping Giant" and beyond to the Flattops Range.
We supply virtually all the rentals that a couple would need – from tables to chairs to lighting and beyond. The only thing we don't supply are a) we don't do dishes and b) the china/glassware/silverware, because it is so personal. We also have upgradeable items including usage of our horses (and sleigh for winter), marquee love letters done in our font, a s'mores cart, and farmhouse tables. Patio heaters and an industrial million BTU heater for the pavilion for late fall/winter weddings.
Additionally, we have a concept called "Share the Love" where previous couples leave décor behind. We have over 12 pages of inventory that we carefully screen – so it looks new / out of the box. We have everything from chargers to champagne walls (and more).
For service, we include both our client concierge and vendor concierge services.
Best piece of planning advice you have for a couple who just got engaged?
Decide on the three most important things to you as a couple for your wedding – and plan to spend the most on those three items. The rest will fall into place. If music is important, spend your $$ there. If food is not as important, use food trucks or less expensive caterers.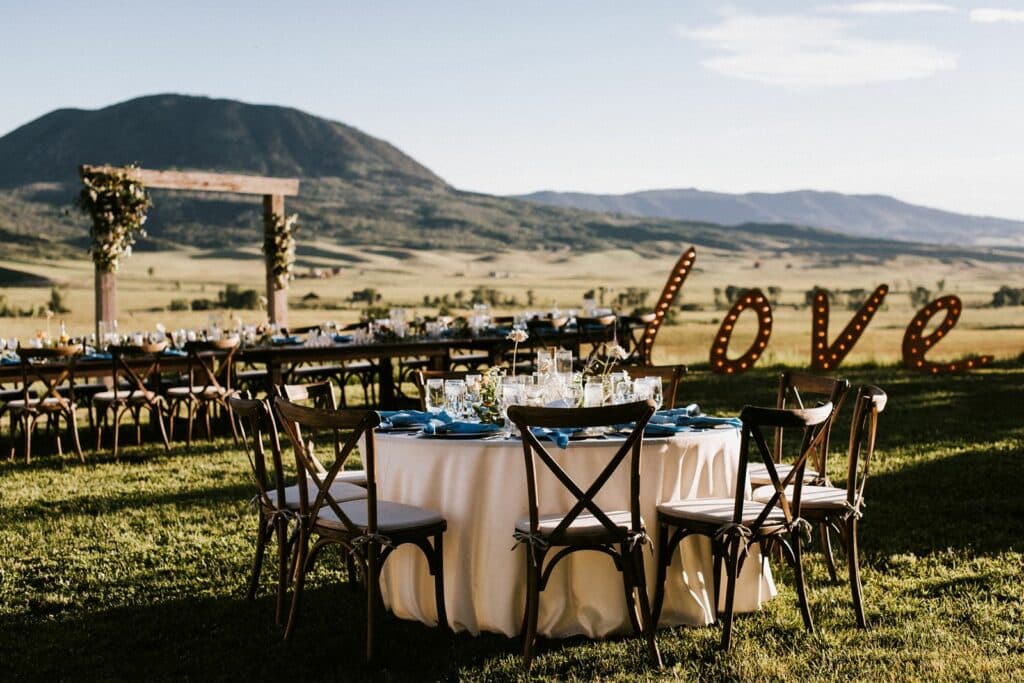 Thank you for reading, we hope this blesses your wedding planning journey.
Cheers!
The Chancey Charm Team
Free Destination Wedding Cost Comparison Guide