I remember starting out as a new planner I felt absolutely overwhelmed by all of the competition surrounding me as a wedding planner and exhausted by the constant networking scene.  But, through trial and error, as well as, a little divine intervention I was able to build a brand that supports a team of over 25 planners.
Do you feel lost when it comes to marketing your wedding planning business?
Do you feel like you are drowning in a sea of competition? Are you struggling to define your target client?  Feeling overwhelmed by the vendor networking scene?
Today, I am excited to share my guide, How To Start Marketing Your Wedding Planner Business With Clarity. Through a simple, proven system, you'll define your vision statement, target client and get a process in place for building your brand with your target client in mind.  I also share guidance on how to navigate vendor networking in a way that builds the business you want, rather than exhausting your time and resources
WHAT IS INCLUDED:
– FINDING YOUR IDENTITY IN A CROWDED MARKET
– BUILDING A BRAND TO MATCH YOUR VISION
– EXPLORING THE POWER OF INDUSTRY PARTNERS
– DEFINING YOUR VISION STATEMENT (FOR YOURSELF AND YOUR TEAM)
– ESTABLISHING BOUNDARIES AND FOCUS FOR YOUR BUSINESS
– CREATING CONTENT TO MATCH YOUR BRAND
– CHANCEY CHARM TARGET CLIENT OUTLINE SHARED IN DETAIL
– QUESTIONS TO HELP YOU DEFINE YOUR TARGET CLIENT
– VENDOR NETWORKING STRATEGY WITHOUT THE STRESS
This is just one of the crazy-helpful action guides available in the Wedding Planner Marketing Mastermind, along with insightful training videos and live Q&A sessions. Everything your need to need to grow your business with confidence and clarity.
Rooting For Your Always!

This guide is shared exclusively inside the Wedding Planner Launch Resource Bundle + Community Pass.
ARE YOU READY TO LAUNCH YOUR WEDDING PLANNING BUSINESS WITHOUT THE HASSLE OF TRYING TO FIGURE IT ALL OUT THE HARD WAY?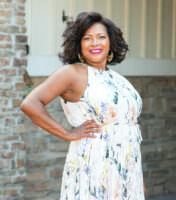 "I love all the materials and there's a "course" for everything you need to know to become an event planner or improve. I'm so happy and proud to be part of this community. So glad I got this!" 
– Gilda Babu, Gilded Grace Events
DON'T FORGET TO PIN THIS POST FOR LATER!