A lot of our brides want a completely custom design for their wedding, which includes a custom invitation + paper goods suite. We adore working with a local artist on invitations for that completely unique look and feel.

When you're working with an artist on your invitations, sending over the color palette makes the process easy.  But, as time and sometimes financial resources dwindle, looking at premade invitations that can be tweaked to fit you + your wedding is another option we love to recommend.  We've got a few favorites, that really produces stunning, quality invitations via an easy, online ordering process and Basic Invite is one of the best online wedding invitation options.
Matching Your Color Palette to Your Invite...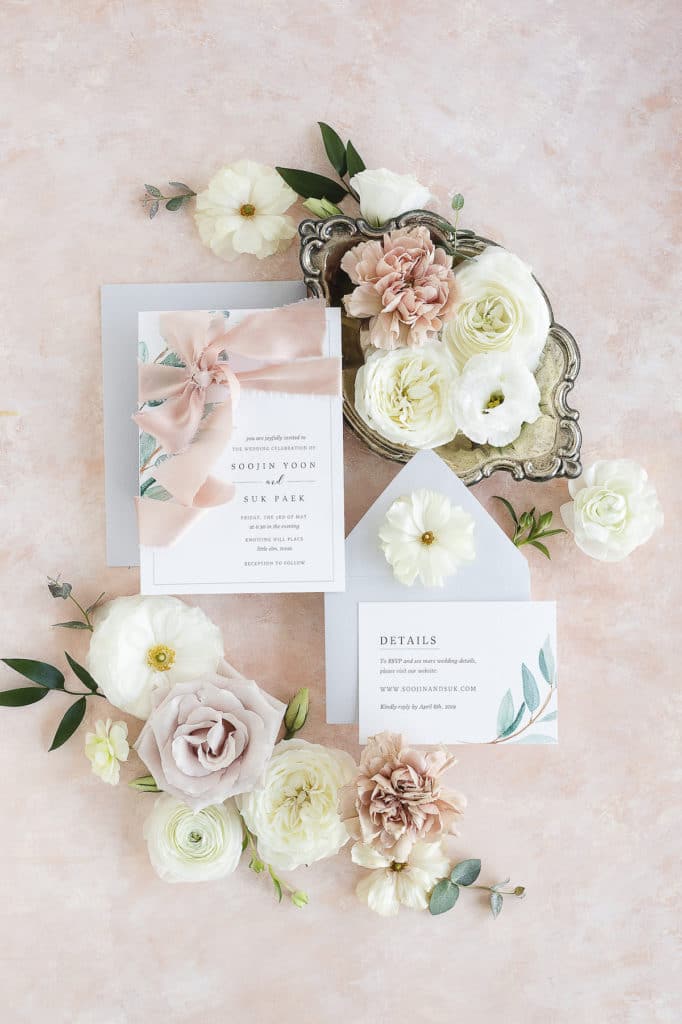 When it comes to matching your color palette to a pre-made invitation we've found that most companies limit the color palette of each design to a few options, but Basic Invite will match YOUR color palette!  For the design inspired bride, this is a huge win!  You can also preview your color selection + the design instantly.  As a designer myself, the details mean everything, so this is my favorite draw to Basic Invite.  They also allow their customers to snag a custom sample, before placing their final order.  Again, when you're spending hundreds if not thousands of dollars on paper goods – this is huge.  And don't worry, Basic Invite has 40+ envelope colors to match that perfect invite design!  If you're looking for the "total package" with your paper suite design, Basic has everything from save the dates to custom coasters and everything in between!
If you're feeling overwhelmed by the address collection aspect of getting all of those pretty paper goods out the door, Basic Invite also has a free address collection service – praises! They follow it up by a free envelope printing service.  Now I know a lot of brides want a hand-calligraphed address, but again, sometimes time and resources do not allow for that kind of service.
A few things to keep in mind if you're hoping to have your envelopes hand addressed...
You'll need to allot $2-5 per envelope for hand addressing.
You'll need to order at least 20% extra envelopes to account for mistakes.
You'll need to secure your calligrapher months in advance. (Most calligraphers only take on 2-3 clients a month, so they often book up months in advance)
You'll need to get your invitations to the calligrapher 2-3 weeks before you want to send them out (which should be 6-8 weeks before the wedding).  So, you'll need your invitations in hand 8-11 weeks before the wedding date.
As you dive into paper goods for your wedding, I hope that this information helps you feel confident in timing and the options available.  Your wedding will be stunning, no doubt!  If you're looking for more help with designing your wedding check out our Virtual Design Service.
Cheers!
SNAG OUR FREE WEDDING CHECKLIST