At Chancey Charm, we're huge fans of classic wedding designs with timeless details + elements of your style and personality tied in. One of our favorite ways to make a classic wedding design more personalized is by getting to know our couples and their unique love story. Doing this really allows for the opportunity to create an ambiance that truly reflects a bride and her groom. Chancey Charm's wedding planners were featured on SheFinds.com sharing tips on accentuating your wedding design with personality, and we thought it would be fun to dive in even further below. Enjoy!
6 Easy Ways To Tie Your Personality Into Your Wedding Design
Set the tone with your save the dates and carry it through to your thank you cards. As your printed materials like your save the date and wedding invitation are the first impressions guests will have of your upcoming wedding and reception, start the creative process there! Think about how these items can be a reflection of your shared style as a couple. Brie Owens, Chancey Charm Atlanta Wedding Planner, shares some of her favorite ideas to help get the creative juices flowing: a watercolor map or hand-drawn illustration of the place you met or got engaged, using verses/lyrics/quotes that are meaningful to you and your fiancé, or having a custom family crest or "wedding logo" made featuring your favorite things (even your pets). Don't forget to tie your design into your ceremony program, escort cards, signage, and thank you cards as well, to bring your vision full circle!
Cheers with a signature cocktail. Chancey Charm Houston Wedding Planner, Skylar Caitlin, recently worked with a couple who wanted a classic wedding design, but with little pops of personality. One of the most popular ways to do so is a signature cocktail! Whether you opt for two "his" and "hers" options or just one signature drink, make it reflect you and your story. And then take it one step further by giving it a meaningful name! They named their two cocktails after their pups, but you could also pick a family member's name to honor, the name of a city that's important to you both, or anything else that speaks to your love story!
Get creative with your wedding guest book. Gone are the days where your guest book has to actually be a book! Alana Futcher, Chancey Charm Charlottesville Wedding Planner, loves helping her couples find ways to tie personal aspects into their wedding design. One of her couples loved to surf, so it was only fitting that their guest book was actually a surfboard. Their guests got a kick out of signing it and the couple was so excited to display it in their house as a reminder of their wedding, shared passion, and love. If there's not an item that necessarily speaks to both you and your fiancé, consider something that can be a piece of artwork for your home like a special print, canvas, painting, map, etc.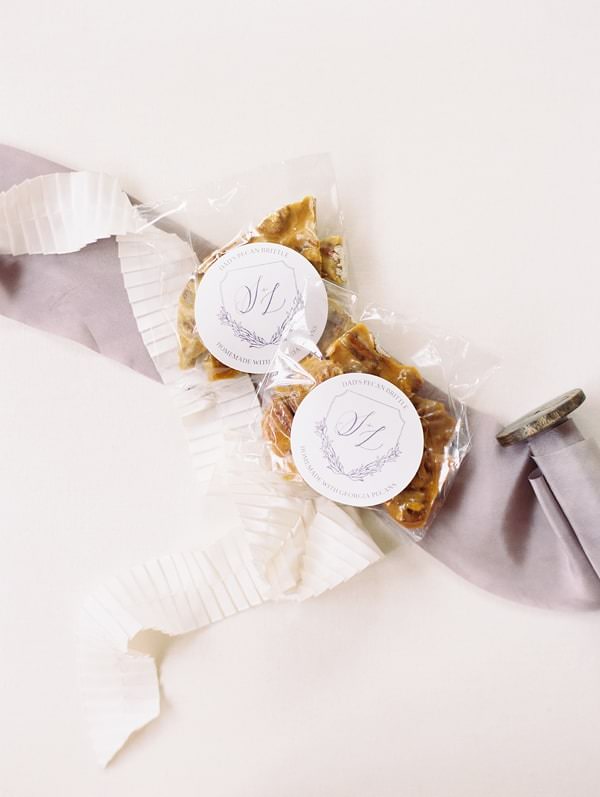 Honoring the love stories of your friends and family members. 

Our Chancey Charm Boston Wedding Planner, worked with a couple who asked every married couple coming to their wedding to send them their personal favorite wedding photo. They then showcased all these beautiful wedding photos throughout their cocktail hour. It brought a smile to every guest's face to see their own wedding photo, and it got people talking to one another and sharing their stories! It was a great way to get guests mingling!
Say thank you in a more personal way.

 One of Chancey Charm San Diego Wedding Planner's couples thoughtfully had hand written letters to each guest made before the wedding. The envelopes containing the letters served as their place cards! They were gorgeous and hand lettered by a friend of the couple. It was amazing and so personal! It definitely took time to plan and coordinate with RSVPs, but what an incredible and intentional way for each and every guest to feel like a huge part of your day!
Make your menu unique and memorable. 

Food is another favorite way to add some personality in to your wedding! Talk to your caterer about fusion menus that blend together multiple cultures' cuisines. Do you have a favorite meal you love to cook or eat together? Share that with them – they might be able to recommend something as a nod to you and your fiancé. Bring in your favorite comfort foods (or snacks) after a night of drinking and dancing, or a fun dessert station like frozen bananas or a churro cart. And don't forget about foodie favors for your guests! We once had a bride and groom, who along with most of their guests, were both huge coffee lovers. They blended together their favorite types of coffee in custom designed organza bags, creating a signature blend for all their guests to enjoy.
SNAG OUR FREE WEDDING CHECKLIST