The District of Columbia, or simply Washington D.C., is a metropolitan city with an array of sights for those who visit. As the nation's capital, it is well known for its historical significance, the grand monuments, and the high-profile politicos within. When planning your wedding day, you want to be the iconic center that is capturing everyone's eye, which means selecting the perfect location to be your backdrop is essential. D.C. and the surrounding areas have venue options ranging from stately to romantic, and some in between. We have selected five of our favorite sites that can bring your wedding vision into reality. 
Our top picks for Washington D.C. venues in no particular order:
Great Marsh Estate features a restored Georgian mansion as the focal point of the 121 acres of lawn and woodland. The site feels as though it was always meant to host weddings. The estate building is yours for the day and features the well-appointed bridal suite and the relaxing groom's lounge. For a picturesque ceremony, the courtyard is perfect with views of the countryside. The reception hall is an old stable that has been renovated into a modern space with wood beams and elegant touches. This venue has combined luxurious and provincial for couples who want something that feels unique. 
You can read our highlight of Great Marsh Estate here.
Why this made our list: We love the blend of styles and historical elements that make it feel romantic! 
2. THE OAK BARN AT LOYALTY
The Oak Barn at Loyalty is a farm venue that features 21 acres of rolling hills, sweeping pastures, and wooded areas. This is the perfect venue for couples who want to have a peaceful country setting for their wedding and still have all the modern amenities. The beautiful light oak barn alongside the panoramic skyline creates a warm and inviting atmosphere while the outdoor lounge and fireplace add to the overall charm of The Oak Barn. Another great benefit of this venue is that they can accommodate weddings in every season of the year!
Why this made our list: We love a barn wedding and this is an exceptional barn in a beautiful setting!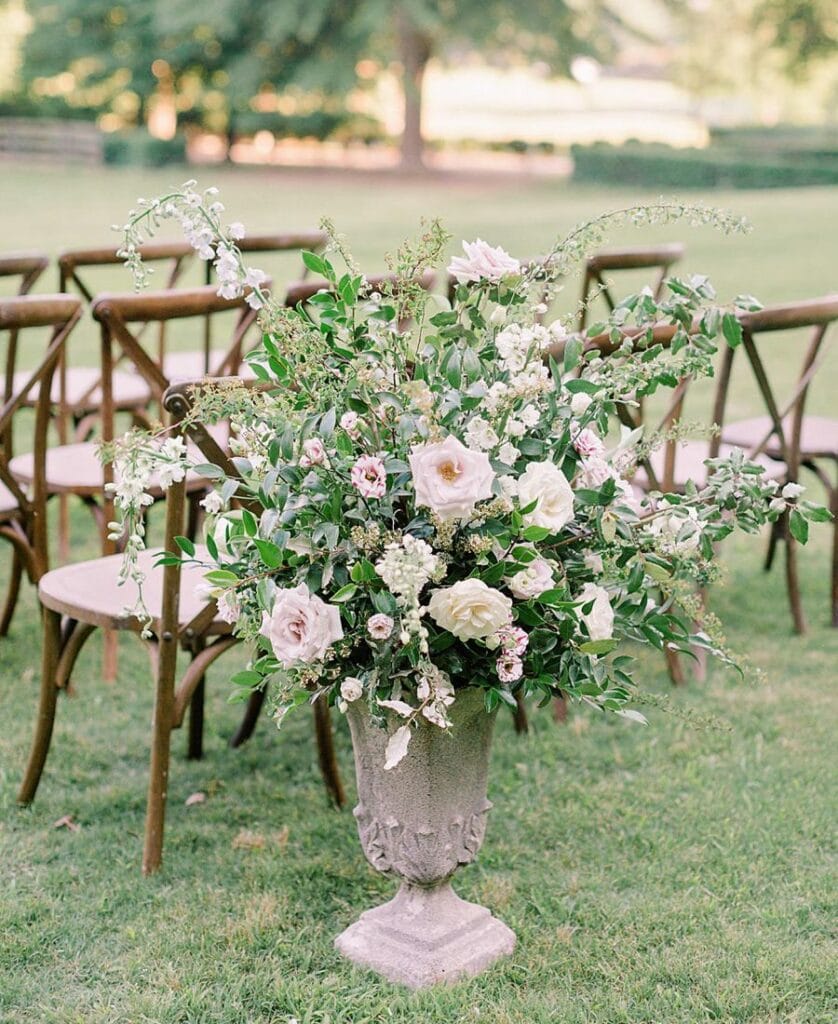 3. THE MILL AT FINE CREEK
For a dreamy setting that takes you back in time, The Mill at Fine Creek is a perfect choice. The owners of this private, all-inclusive venue have thought of everything to make your wedding day or wedding weekend perfect. The ten-acre property features 13 guest cottages giving couples the option for a wedding weekend event. There are 3 outdoor ceremony spaces nestled in their gardens each with its own natural beauty and style. The indoor reception area features a wood bar, a wood dance floor, and a wrap-around deck, linking it to the lush surroundings. 
You can read more about them in our venue highlight here.
Why this made our list: We think this venue is a rare beauty and they considered every detail to make your wedding day special!d
With a 110 year old church as the foundation, The Line DC creates an atmosphere that is stately and sophisticated. It is the perfect match for couples who want to make a statement and host a grand affair. There are several spaces within The Line, each of them featuring striking historic details. For example, the rooftop features a panoramic view of Washington DC, while the focal point of the mezzanine is a stained glass arch window that draws attention to the high ceilings and architecture of the building. Every option is special and requires little additional decor to make an impression. 
Why this made our list: We love that it is elegant and stylish for an unforgettable event!
A working farm and retreat located in Virginia, Airlie takes you away to a bygone romantic era and is an idyllic location for weddings. There are several spaces, both indoor and outdoor, to host your celebration each of them with its own features and style. Whether you choose the lakeside tent, the manicured gardens, the formal pavilion, or the historic manor, the landscape and history will create a natural elegance as the setting for your wedding. This versatility allows couples to bring any vision for their perfect day to life, the all-inclusive packages make the planning easy. 
Read more about them in our venue highlight here.
Why this made our list: The unspoiled countryside and historic buildings make us feel like we are in a Jane Austen novel and it all makes for perfect pictures!
Washington D.C. has so many options to bring the wedding of your dreams to life! We hope this list helps you to find the perfect venue to do that!
If you are already feeling overwhelmed our team would love to guide you throughout your planning journey. Our goal is to guide our clients through the process and make this process as enjoyable as possible. 
If you are ready to hand off the stress of planning and get started with a professional wedding planner click the link below!
Free Destination Wedding Cost Comparison Guide