Since I launched Chancey Charm over a decade ago, it's been a wild ride building a business I love and working with the most incredible women across the country. Throughout my experiences in the industry I realized that my heart was in two places – one is in education – helping new planners launch their business and helping existing planners grow their business and team and the other is my love for marketing. 
So at the beginning of 2022 I did something something kinda crazy with our lead flow and flipped our existing model on its head. We had built a really steady lead flow generating over 1,200 leads last year and we plan on continuing to grow that moving into next year. Originally we had leads coming into the site and then I sent them to planners on our team in a contractor capacity. But what I decided to do in Jan 2022 is to take the leads coming in and actually curate a group of planners for each location that I would personally recommend to these leads in a boutique listing experience.
How We Get YOU Leads For Your Wedding Planning Business
It's getting harder to be seen online and more competitive to get your worked published, to show up and to market your wedding planner business, so we use a unique marketing approach to attract leads to your inbox. We get in front of couples that are already looking for you. We receive most of our leads through word of mouth, Google and Pinterest and these are quality leads for your wedding planning business from clients who are already looking for a planner, meaning booking rates are higher.
We use local group marketing techniques – and the power of the team to move the brand forward and therefore generate more leads. Our "we over me" mentality (which we adopted right from the start), drives our online visibility, keeps us at the top of searches, and fills our inboxes with quality leads.
That is what the wedding planner lead generation program is, it is pretty amazing and it is exciting to see we have already seen proven success. The people that are already in it are enjoying it and I hope it could be a fit for you!
Lets take a detailed look inside the program..
I hope that this tour with the visuals has provided some insight and clarification into the program. If you would like a proposal or even want to apply for a location that is not already listed please reach out. We are expanding because this technique works!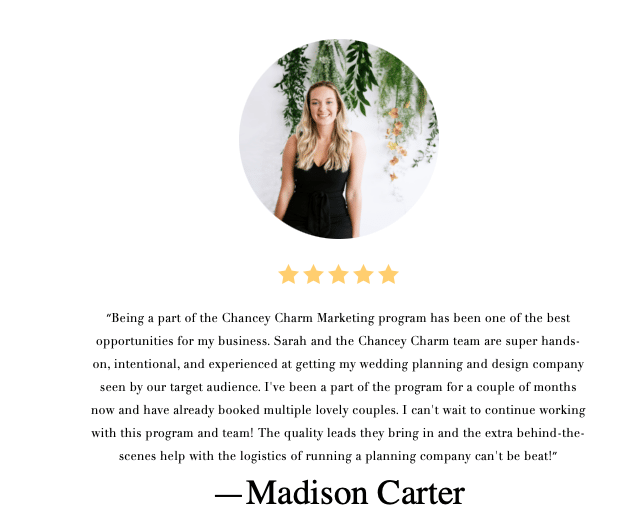 SNAG THE FREE WEDDING PLANNER LAUNCH GUIDE + MY "LITTLE BLACK BOOK"