The city of Atlanta is vibrant and full of historical charm. More than just the capital of Georgia; it is also considered the cultural hub of the southeast. It has so much to offer all who visit, and the same is true for those planning a wedding; options, options, options. No matter what vision you have for your dream day, Atlanta has a venue to match it. We have selected five of our top venue picks to showcase and provide you with a glimpse of some exceptional choices this delightful southern city has to offer for your special day. 
Here are the venue picks in no particular order:
1. ATLANTA BOTANICAL GARDENS
The Atlanta Botanical Gardens is a luxuriant venue that provides a variety of options. It has several site options featuring green outdoor spaces and beautiful indoor spaces that allow versatility to create your dream wedding. Each of the garden spaces vary in style and design but all will make those who enter feel like they have stepped into a woodland oasis.
Why this made our list: the greenery is beautiful in every garden and your wedding pictures will be amazing no matter which of their spaces you choose. 
If you want your wedding venue to feel dreamy and elegant then look no further! The Biltmore Ballrooms combine romance and history for a stunning opulent look. Each ballroom features high ceilings, beautiful hardwood floors, restored chandeliers, Palladian windows, pillars with gold leaf touches, and handcrafted plaster ceilings. The distinctive design elements create a style that requires little additional decor. 
You can read more about them in our venue highlight here. 
Why this made our list: it is breathtaking and luxurious for the perfect romantic wedding.
Nestled in the Georgia mountains Montaluce Winery takes you away with its Tuscan style. The sweeping lush landscape creates a romantic setting with exceptional views from each of their outdoor and indoor spaces. The winery features an exquisite restaurant that will design a menu and pair it with one of their lovely wines for your reception. 
You can read more about them in our venue highlight here.
Why this made our list: all the romance of Italy with picturesque views create a breathtaking setting for your wedding.
Surrounded by mountains, waterfalls, and lakes, this enchanting venue combines old-world charm with natural elegance. By combining several estates, Old Edwards Inn gives a variety of venue options for couples and is the perfect space for an intimate celebration or a large gathering. Every corner of the sprawling grounds feels warm and welcoming.
Read more about this venue in our blog post here.
Why this made our list: this is a magical escape from the city with unbeatable beauty and incredible options.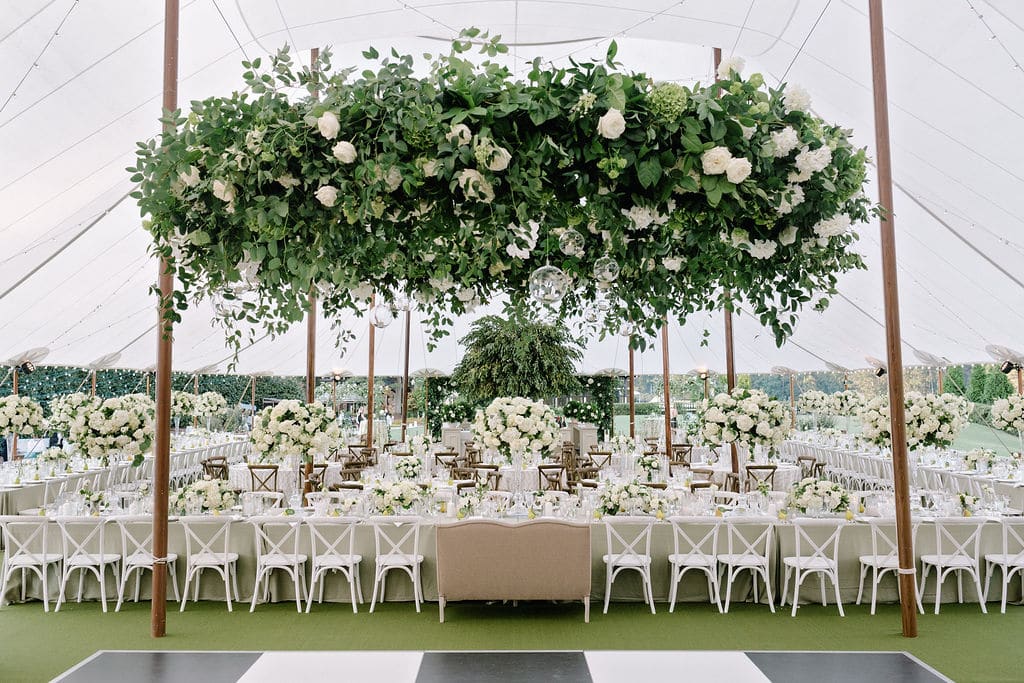 The Fernbank is a natural history museum that was founded to preserve nature and stands as a setting for your big day that is both elegant and distinctive. The indoor and outdoor spaces are filled with beautiful details that are rare and specific to the museum, like fossil floors and dinosaur bones. The uplighting highlights all the special features and outdoor spaces creating a soft romantic feeling. 
You can read more about them in our blog post here.
Why this made our list: this is a unique and stunning venue to showcase any couple on their wedding day.  
These are just a few of the venue options to create your dream wedding in Atlanta. With so many amazing venues it can be hard to narrow your list down, let alone choose one.
Our team would love to guide you throughout your planning, and we can even help you choose a venue that helps you bring your wedding vision to life. 
Not sure what you want? Don't worry we can handle that too!
Contact our team today to get started planning your wedding with the guidance of a trusted professional!
Free Destination Wedding Cost Comparison Guide