In today's Chancey Charm Washington DC Wedding Vendor Highlight, we are chatting with Deanna and Grant Harrison of Harrison Films! They met in film school and after reuniting years later they fell in love and decided to build their life around capturing other people's love stories on film. We're excited to be chatting with them about how they got into the wedding industry and their advice for brides. Enjoy friends!
– The Chancey Charm Team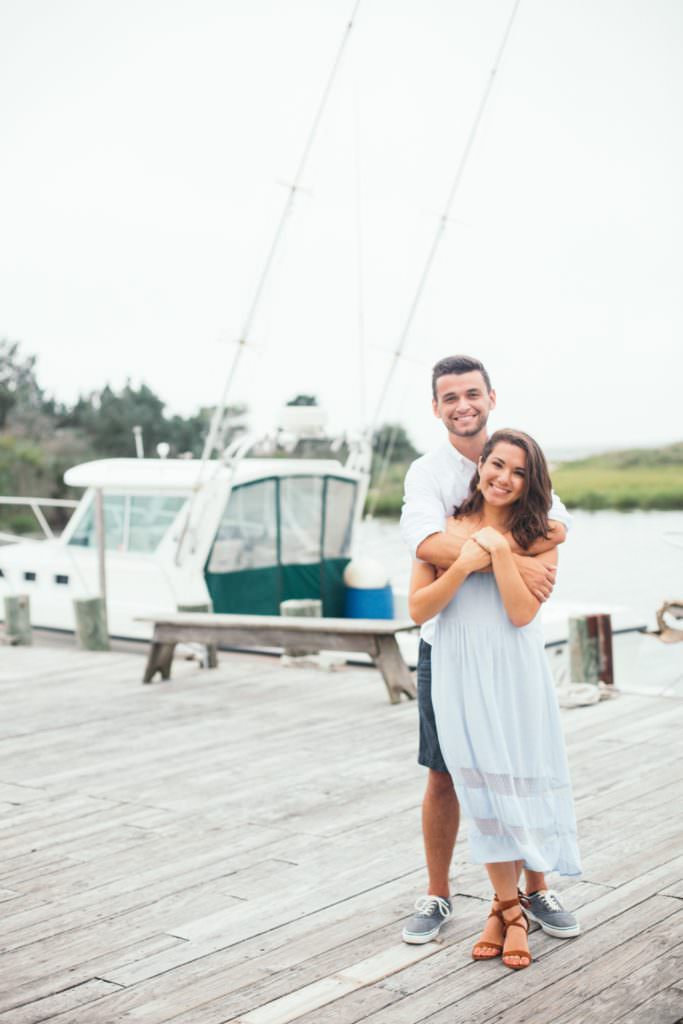 Photo: Never There Yet Photography
Name
Deanna & Grant Harrison
Hometown
Long Island (Deanna) & Philly (Grant)
What's your area of expertise?
Wedding Films
First job you ever landed?
My first "real" job (Deanna) was a digital content creator for a wedding photo and video studio in New York. I would edit photos, videos, develop and manage the studio's digital marketing strategy. Grant was a freelance DP, filming for a variety of narrative film and commercial projects.
What brought you to the wedding industry?
We were both introduced to the wedding industry during our freshman year of college (where we met and became best friends). Grant was asked to film a wedding for a friend of a friend. He really enjoyed everything about it, so he went on to film more, asking me (Deanna) to be his second shooter. Filming weddings was always a side-gig for Grant during and for several years following college. I loved weddings so much that I sought out that first job of mine because I loved the idea of continuing to put my production skills to work for a wedding studio.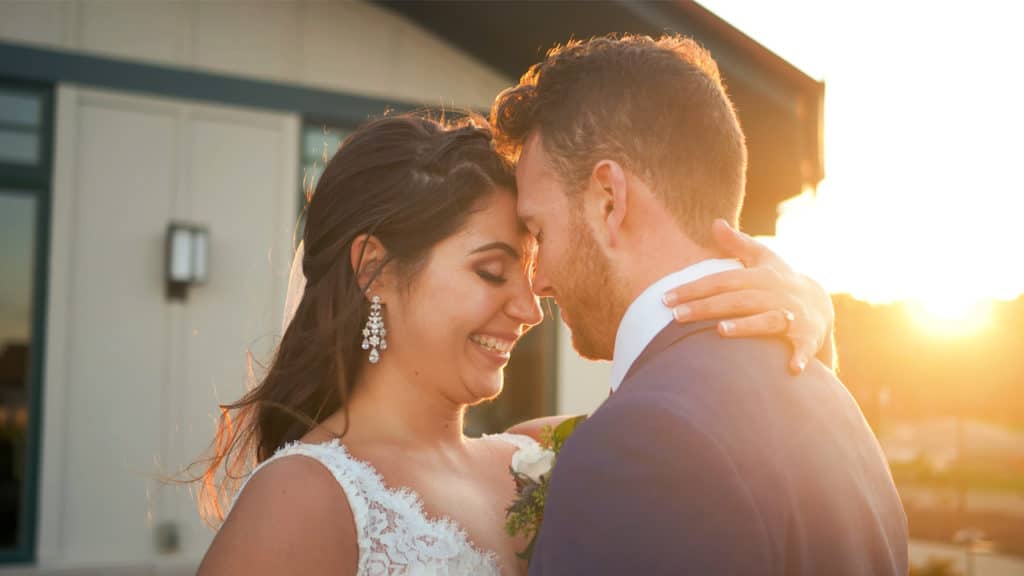 Photo: Still from Harrison Films
A lesson you've learned the hard way in the wedding industry?
Once we became a couple, it was clear to us that we wanted to build our lives together around capturing love, just like we did at the very beginning of our friendship. We decided to re-brand Grant's old wedding video side-gig into Harrison Films, and we had absolutely no idea what to expect for our first year in business. Fortunately, we exceeded our goal for bookings, although we realized a little too late in the booking game that we did not give ourselves nearly as much time as we should have to turn around the full films. Under-promising and over-delivering was our goal, but as we booked more, the time we expected to have editing shrunk because we committed to more filming. That created a backlog. We definitely caused ourselves a lot of unnecessary stress aiming to meet deadlines! The lesson here: constantly be evaluating your time commitments and set expectations correctly from the beginning!
Favorite way to spend a Sunday afternoon?
It totally depends! During wedding season, it's actually spent editing. We turn around a sneak peek to our couples pretty quickly so they can get a little instant gratification and relive the magic of their day. It brings us a lot of joy to go through the footage, see what we got, and surprise and delight couples. If it's a Sunday on a free weekend, you can find us curled up watching a movie or exploring our home city of DC.
Best piece of advice to someone new to the industry?
Observe, shadow, and assist before jumping in on your own.
Best piece of planning advice to a new bride/groom?
Celebrate. Drink champagne for a week (or a month or two) before even discussing the wedding planning. Your wedding day will be the best day ever regardless of the season, venue, food, gown, etc. It sounds lame, but it is true. We've filmed such a variety of weddings and at the end of each one, the couple couldn't have been any happier. Set your sights on how to make the celebration feel as true to you as a couple as possible, and remember that the people and the emotion surrounding you are what make a wedding day special. Once you do have a vision in mind, a wedding planner can help you navigate the craziness of vendor shopping and budgeting so you can continue the celebration well through the actual planning process. Also, we are obviously biased, but you should 100% have your wedding filmed 😉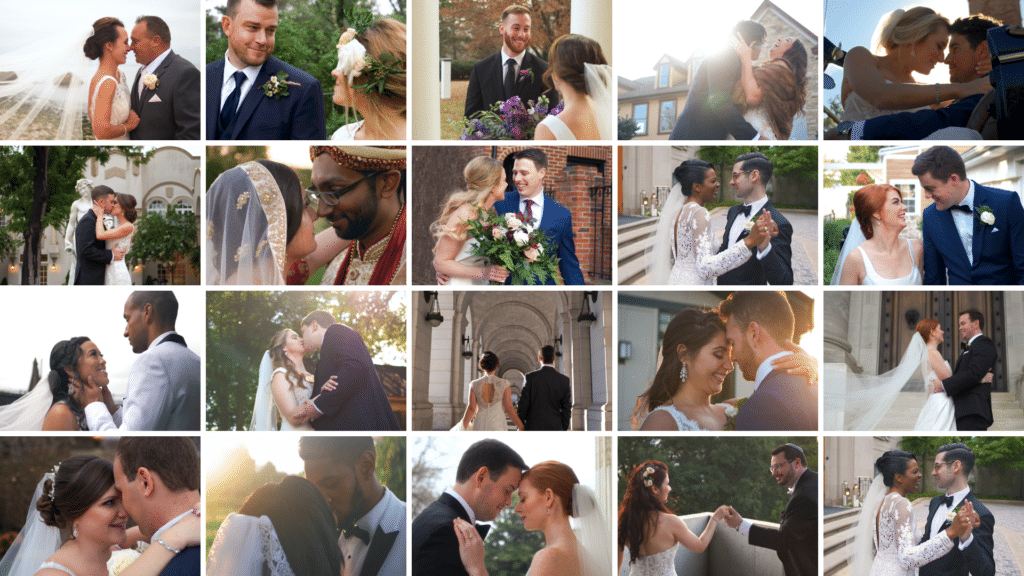 Photo: Stills from Harrison Films
Some words you live by?
What's done in love is done well – Van Gogh
Best tip for balancing work + home life?
We will let you know when we figure one out, hah!
Best moment of your career?
The best moments these days are receiving feedback from our couples. Recently, a couple of ours called us right after we delivered their film. They told us they were driving when our email came through, and that they pulled over to the side of the road and watched together. When we got their call, they were still crying happy tears. It was just incredible to feel the emotion through the phone. They referred to the film as a "gift" and that in and of itself was a gift right back to us.
Guilty pleasures?
Everything coming to mind is edible or drinkable. We both love beer, and actually toasted with pint glasses at our own wedding!
What's your favorite aesthetic?
New England summer
Intimate or Par-tay? What size wedding do you recommend and why?
It depends on the couple! Our wedding had about 130 guests and we loved that we could look around and feel each every single person was important to us. We filmed a smaller wedding with a guest list of about 60, and that was a ton of fun. The couple was able to have meaningful interactions with everyone, enjoy alone time, and still have a super energetic dance party to top off the night. It's also on our bucket list to film an elopement with a really tiny guest list. I suppose we love weddings of all sizes!
What's the first thing a newly engaged couple should do?
Did someone say champagne?
Learn more about Harrison Films here + follow along on Facebook and Instagram. Cheers!