From a dramatic entrance (or send off) to creating an unforgettable guest experience with a ladies lounge, the Chancey Charm team is sharing a roundup of 8 luxury wedding ideas that wow below! Cheers, friends!
8 Luxury Wedding Ideas That Wow
Make a dramatic entrance (or send off): Instead of the traditional sparkler send off, think helicopter send off, sail boat entrance, or even departing on an airplane! These ideas are so over the top and make for beautiful luxury wedding photo opportunities.
Take wedding favors up a notch: 

If you really want to leave a lasting memory of your wedding with guests, gift them each a present at their reception seat – something truly unique to you as a couple that exceeds the standard favor. For example, a pashmina wrap for each female guest and an engraved flask for each male guest.
Live ceremony music done in a new way:

 For your luxury wedding ceremony, bring in an a capella choir and have them either seated scattered among guests or all standing around the venue in the outer aisles. When they perform songs throughout the wedding ceremony, the entire venue will be enveloped with sound. Plus it will be interactive for your guests!
Incorporate a ladies lounge into your reception:

Think a beautifully decorated tent with lounge furniture for your female guests to touch up their makeup and rest their feet before rejoining the dance floor!  What can you include in a ladies lounge? The possibilities are almost endless. Think all the items that women might need to freshen up but don't have on hand, like perfume options, a manicure kit, and moleskin padding for uncomfortable shoes. (I've linked some of my top picks for your lounge!)
Of course, create an equally enticing cigar or whiskey lounge for the men. Include a specialty cigar cutter or whiskey decanter for the ultimate extravagance.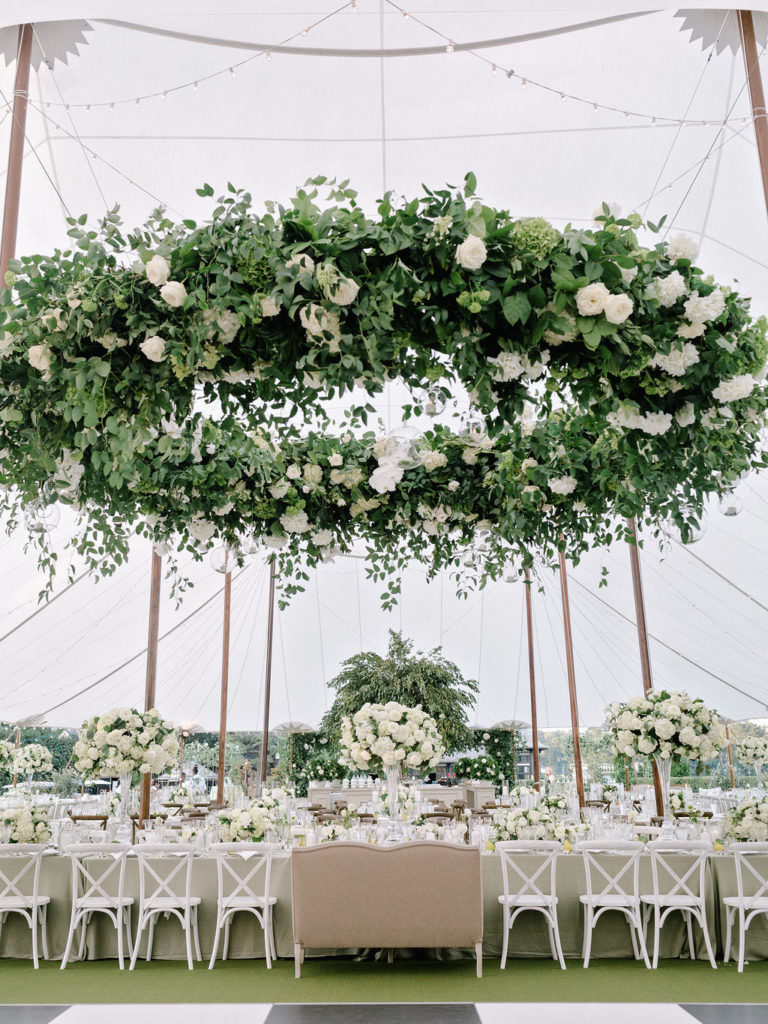 Add show-stopping details to your ceremony design:

 If you love full grown Japanese Cherry Blossoms, why not put one right in the middle of the seating at your luxury wedding ceremony? As planners, we always look for height and dimension in reception decor and tablescapes, but adding show-stopping, attention-getters in the ceremony gives the wedding ceremony a unique touch and sets the tone before guests even see the reception.
There can never be too many florals: 

Go over the top on florals, using different arrangements in different places. For example, hang flowers from the ceiling in the ceremony area to create the visual of flowers "raining down" on guests. Or pair florals down your estate table with hanging arrangements above. We also love the idea of a floral and greenery backdrop for either the ceremony or cake table!
Escort card + signature drink butlers: 

As guests leave the ceremony area and make their way to cocktail hour or the reception area, allow them to be presently surprised by butlers offering a signature cocktail and their escort card. Guess will love the luxury experience and not having to hop in line at the bar right away to get a refreshing cocktail.
Reception entertainment turned keepsake:

 We love the idea of having a live painter on-site to capture the luxury wedding ceremony or first dance! Local Georgia artist Elaine Burge does an incredible job showcasing the mood and colors of the day in her paintings and guests have a fabulous time watching the work in progress!
Are you ready for a better approach to wedding planning? We're excited to offer a printable wedding planner just for couples like you! OR Head over to our wedding planning and design services page and learn more about our team.
LOVE THIS POST? PIN IT FOR LATER!